Suzhou Cuisine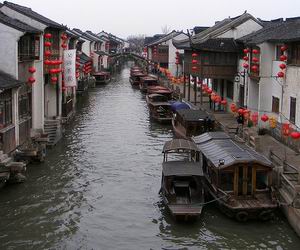 Suzhou (Chinese: 苏州; Pinyin: Suzhou)

Total: 2,382,100

1,649.72 square km (637 sq mile)

Suzhou, known as "city of gardens", is one of the oldest towns in the Yangtze Basin with a history of 2500 years ago.
Overview
Suzhou really manages to give one the flavor of "old China", it would take years to explore all the interesting things here, cluding its cuisine. Very similar to that of Shanghai, Suzhou's cuisine is characterized by light flavors, sweet dishes and an abundance of fish and shellfish.
Know More
Local restaurants
Many of Suzhou's oldest and most famous restaurants can be found along Guanqian Jie. Go to Shiguan Jie if you've got a hankering for a steak or some sushi, lots of Fenghuang Jie is packed with restaurants serving traditional Suzhou and Zhejiang dishes.
Deyue Lou
Specializes in Suzhou cuisine like Watermelon Chicken, Jiyou Caixin and house creations like Deyue Tongji and Xishi Wanyue.
Song He Lou
Visited by Emperor Qianlong who provided the calligraphy for the restaurant's doorway tablet, restaurant specializes in the Squirrel Shaped Mandarin, Stir-fried Prawns, meat and sticky rice steamed in a lotus leaf.
Suzhou Snack Restaurant
Specializes in Suzhou snacks such as Baitang Wushu'ou, Osmanthus Rice Dumplings, Sticky Rice with Duch's Blood and Snails in Soy Sauce.
Must try