Beijing Fayuan Temple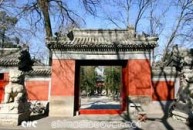 The Fayuan Temple, one of the oldest Buddhist temples in Beijing, is situated in the Xuanwumen area in the southwest quarter of the city. According to the Shuntian Prefecture Annals, Li Shimin, the second emperor officers and soldiers who lost their lives in battles, built the temple in 645. At the time it was called the Minzhongsi (the Temple in Memory of the Loyal). It was rebuilt in the Zhengtong period (1436-1449) of the Ming Dynasty and renamed the Temple of Exalted Happiness (Chongfusi). Its present name dates from 1734.

When Emperor Qinzong of the Northern Song Dynasty (reigned 1125-1127) was captured by troops of the Jin Dynasty, he was held prisoner in the temple. When the Southern Song official Xie Fangde was taken to Beijing by the troops of the succeeding Yuan Dynasty, he refused to surrender and starved himself to death here.
Occupying an area of 6,700 square meters, the temple contains a number of fine early cultural relics. The bronze sculptures pf the Four Heavenly Kings (Davarajas) and lions date from the Ming Dynasty, as do the rare gilded figures of the three Buddhas-Vairochana (Piluzhena), Manjusri (Wenshu), and Samantabadra (Puxian). The huge stone urn in the form of a Buddhist alms bowl, which stands on a double base before the Hall of Pure Karma (Jingyetang) rivals the jade urn in the Circular Wall (Tuancheng) in Beihai Park in terms of size and decoration. The sides of the Platform in Memory of the Loyal (Minzhongtai) are inscribed with a cursive rendering of The
Ode to the Pagoda
by Zhang Shijin in the calligraphy of Su Lingzhi, who lived in the Tang Dynasty. There are also many fine examples of stelae, stone carvings, stone pillars inscribed with Buddhist sutras, plaques inscribed in the calligraphy of emperors and printed Buddhist scriptures, all dating from the Ming and Qing dynasties.
In the past, the temple was so famed for its lilac gardens and was also known as the Sea of Fragrant Snow. Each year when the trees came into bloom, the monks would hold vegetarian banquets, which were attended by all the celebrities of the day. Pines from the Tang Dynasty are found in the front courtyard, and cypresses from the Song stand before the drum and bell towers. A gingko reputed to be several hundred years old is growing next to the Sutra Tower (Cangjingge).