Shenyang Tourism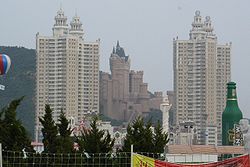 Liaoning (Chinese: 辽宁, Pinyin:Liáoníng)

43,060,000

145,900 km2 (56,300 sq mi)

Liaoning's culture is part of a culture of Northeast China that is quite homogeneous across all of the northeastern China.
Overview
Shenyang is the economical , cultural , communication ,trade and commercial hub of the Northeastern region of China ;it is also a major industrial and cultural city with historical importance . Shenyang is located at the center of the Northeast Asian economic ring and Bohai economic ring, so it has important strategic status . With its advantageous geographical position, Shenyang has tremendous absorbing , radiating and driving force to the whole country and even Northeast Asia.
Know More

Shenyang is a well-known Chinese city in history and culture with about 1100ground and underground cultural relices. It is so called because of being located on the north bank of the Hunhe River(named as Shenshui in ancient times). According to the textual research for Xinle Archaeological Site, 7200 years ago, our ancestors lived and multiplied on this land. The founding history of Shenyang City has been over 2300 years since B.C.300 when Qin Kai established Hou City here to garrison border land. Shenyang has long been reputed as "the birthplace for one dynasty and the capital for two emperors ". In 1625, Nuerhachi, the first emperor of Qing dynasty, moved its capital here , and renamed it Shengjing. In 1636,Huangtaiji, the second emperor of Qing Dynasty, changed the reigning title into Qing Dynasty. In 1644, Shenyjing was identified as auxiliary capital while Beijing became the capital after the soldiers of Qing Dynasty entered the Shanhaiguan Pass. In 1651, Fengtian Prefecture was established here .In 1945, it was renamed Shenyang again.

Shenyang is a traditional industrial base emphatically constructed in our country . It has formed an industrial system complete with all necessary departments, giving priority to mechanical processing, embracing automobile, petrochemical industry, aviation, pharmacy, building materials, metallurgy, light industry, textile, electronic industry, coal industry , and so on .Shenyang always enjoys the fame as "Equipping department of the P.R.C.", its scale of equipment manufacturing industry is grand with solid foundation and relatively strong capability of forming a complete set .Forty-four among 77 types of equipment products manufactured in Shenyang are topmost in China in terms of technical level and market share. Especially, Shenyang is well-known all over the country and famous worldwide in the production capacity of machine tool , complete set of high-voltage equipment for power transmission and transformation , heavy-duty mining and metallurgical equipment ,non-ferrous metal smelting equipment , ancillary machine for large-sized motor, complete set of petrochemical engineering equipment , complete set of large-sized cement production equipment, complete set of large-sized sewage treatment equipment, large-sized equipment for superhighway construction, and so on.
Shenyang is the transportation hub of the Northeast . The superhighways extend in all directions , not only connecting all cities of the province , but also cities including Beijing, Tianjin, Changchun, Harbin, and so on ,and those cities are approachable overnight. Shenyang has one of the heaviest traffic hubs of railway in China ,6 trunks intersect here toward each place all over the country . Here is also the only way to DPRK and Russia internationally . Shenyang Taoxian international Airport is the largest airport in the Northeast , it has air lines connecting 58 domestic cities and countries and regions, such as ROK , Japan ,Russia, Thailand , America , France , Australia , and so on .
Must see