Haikou Tourism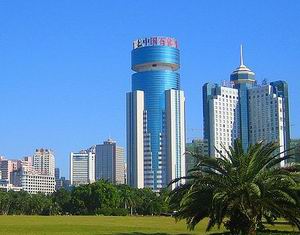 Haikou (Chinese:海口, Pinyin: Haikou))

536,000

2,304.84 square km (889.9 square mile)

Haikou is the capital of Hainan Province, it is also the largest city, situated in the north of the Hailand Island.
Haikou is situated on the north coast of Hainan Island, facing the Leizhou Peninsula, across the Hainan Strait (15 km wide); in an area that reaches from Zengmu Ansha in the south to the Qiongzhou Strait in the north; bordering the sea areas of the South China Sea and facing Vietnam in the west across Beibu Bay.
Part of Haikou city, the district of Haidian island, is separated from the main part of Haikou by the Nandu river. It is the northernmost part of Haikou, and is accessed by one of three bridges, the largest being Haikou Century Bridge which connects Guomao district with Haidian island at the west mouth of the Nandu river.
Haikou originally served as the port for Qiongshan, the ancient administrative capital of Hainan island, located 5 km inland.haikou was a part of Guangdong province.
In the 13th century it was fortified and became a military post under the Ming dynasty (1368–1644). The port is located west of the mouth of the Nandu, Hainan's principal river.
When Qiongshan was opened to foreign trade under the Treaty of Tianjin (1858), Haikou started to rival the old administrative city. In 1926, Haikou overtook Qiongshan in population in the 1930s after it was declared a separate administrative county. Haikou was developed as a port during the Sino-Japanese War (1937–45) when the Japanese invaded and occupied Hainan Island from early 1939 to 1945.
Since 1949, Haikou has maintained its position as Hainan's main port, handling more than half of the island's total trade. It has replaced Qiongshan as the island's administrative capital. In 1988, Haikou was made a prefecture-level city as well as the capital of the newly-created Hainan Province.
The Old Haikou (the oldest buildings in the area) were mostly built by the rich Chinese from the mainland and some overseas Chinese who returned to their homeland. The houses are mixture of Portuguese, French and Southeast Asian style.
The Old Haikou used to be divided into areas for selling Chinese and western medicine, a street for silk and tailor-make clothes, one for the fresh fish and meat, another for incense, candles, paper, ink, etc.
Various projects are currently under discussions to decide the best way to restore and preserve these historical buildings.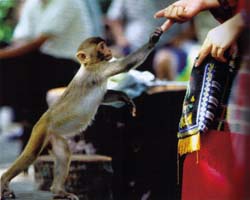 Nanwan Monkey Island is the only tropical island-type nature reserve for macaques – a state protected animal in China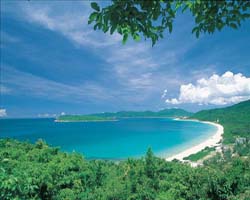 Yalong Bay National Resort is situated in the same latitudes as Hawaii of the tropical monsoon area, under the nickname of "Oriental Hawaii"