Yalong Bay Golf Club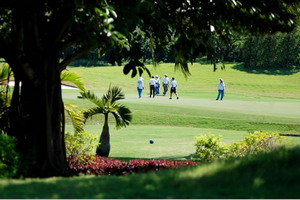 The eighteenth parallel of north latitude is a golden line that connects almost all the famous coastal vacation resorts of the world, including Miami, Cancun, Havana, Hawaii, Bali, Phuket and Maldives; Sanya is on the same latitude.
Located in the southern most tip of Hainan Island, Sanya is the only tropical coastal tourist city in China. Sanya has an average sunshine of 2563 hours per year, no winter, and with abundant resources and air quality ranking number two in the world. Unparalleled tourism resources make Sanya home of sunshine, an eternal tropical paradise.
Yalong Bay Golf Club is one of the masterpieces by Robert Trent Jones Jnr. in China. During the pre-construction period, Robert Trent Jones Jnr. was already impressed by the perfect environment and natural beauty of Yalong Bay. After serious consideration, he decided to build the golf course as a world- class coastal vacation championship course. He expected that same as golf courses in Hawaii, Yalong Bay Golf Club can be the course of professional tournaments and commercial golf events, and a reputable vacation haven for international golfers.
Radiant sunshine, azalea colored seas, stunning white beach, fresh air, great climate, rolling green fields and hills with pristine vegetation surrounding the club. International brand hotels such as Hilton, Sheraton, Marriott, Crowne Plaza, Holiday Inn, Mangrove Tree, Gloria and Resort Horizon offering luxurious accommodation ensuring Yalong Bay Golf Club is an unparalleled golfing destination.
The five-star club house covers an area of 10,000 square meters. The spacious lobby, restaurant, rooms, pro-shop and locker rooms offering golfers the very best in golf service. The restaurant has a maximum capacity of 200 guests and the ample sized pro-shop offers the latest range of golfing goods. The locker rooms and guest rooms can accommodate up to 400 players. There are 24 practice bays at the state-of-the-art driving range which is designed in the popular Hainan Island style. With the only beach lagoon and grass tennis court facility in Yalong Bay, you can enjoy a relaxing and fun stay at Yalong Bay Golf Club.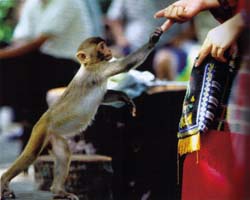 Nanwan Monkey Island is the only tropical island-type nature reserve for macaques – a state protected animal in China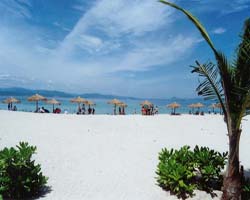 West Island is shaped like a hawksbill, which is like a turtle living in tropical area. It is the largest of a series of small islands located off of Sanya. Home to fishing tribes for generations