Sanya Tourism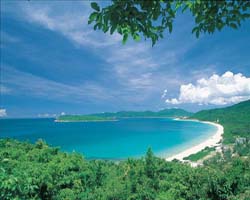 Sanya (Chinese:三亚, Pinyin: Sanya))

536,000

1919.6 square km (741.2 square mile)

Sanya is renowned for its tropical climate and has emerged as a popular tourist destination.
Sanya is renowned for its tropical climate and has emerged as a popular tourist destination. In fact, it has the best beach in China.
Because of geographical unique to Sanya, many niche markets have been cultivated in Real Estate, Food and Beverage management, Chinese Language and Cultural exchange, Agro-tourism, and Wilderness Adventures.
Sanya attracts many international travelers as can be seen by the many Russian and English signs throughout the city.
How to go to Sanya
Sanya is 45 minute flight from Hong Kong and a relaxing place for extending a seashore hoiday. The airport is called Sanya Fenghuang International Airport. Another way to go to Sanya is by long distance bus from Haikou, the capital of this island. You can easily take a taxi from the Sanya's bus terminal to your hotel.
From Sanya Fenghuang International Airport to Dadonghai Beach and Yalong Bay, plenty of taxis availabel, you can also take the No. 8 Bus.
Hotels and beach resorts in Sanya
The first international Resort hotel was opened and managed by Swiss hotelier N.C. Solari in 1999, in Yalong Bay.
Presently, international hotel chains have established in what is becoming a world-known destination, especially following the Miss World beauty pageant in Crowne Plaza, a hotel along Yalong Bay. The resort in Sanya Bay, the Palm Beach Resort and Spa welcomed the first Miss China beauty pageant in modern times. The organizer Julia Morley was decided by Sanya to welcome the international pageant the following year.
In 2009 legendary hotel group Mandarin Oriental opened their first property in mainland China in the Dadong Hai area of Sanya.
Attractions in Sanya
Yalong Bay
Dadonghai Bay
Sanya Bay
Haitang Bay
Yazhou Bay
Wuzhizhou Island
West Island
Daxiao Dongtian (Fairy Caves)
The Tiger and Crocodile centre
Nanshan Temple
Guanyin Statue of Hainan
Cape Tian-Ya-Hai-Jiao (The end of the seas and skies)
The Deer Turns (Luhuitou Park)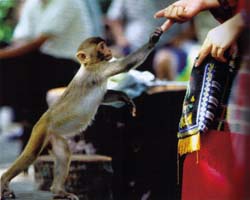 Nanwan Monkey Island is the only tropical island-type nature reserve for macaques – a state protected animal in China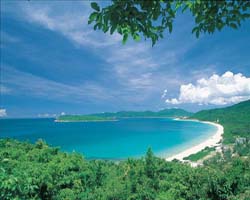 Yalong Bay National Resort is situated in the same latitudes as Hawaii of the tropical monsoon area, under the nickname of "Oriental Hawaii"