Suzhou Tourism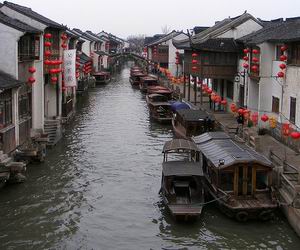 Suzhou (Chinese: 苏州; Pinyin: Suzhou)

Total: 2,382,100

1,649.72 square km (637 sq mile)

Suzhou, known as "city of gardens", is one of the oldest towns in the Yangtze Basin with a history of 2500 years ago.
Overview
There has alway s been a level of elegance, grace and romance in Suzhou that few cities can rival, the gardens and canals lend an air of sophistication. Trekking along the narrow trail to Sandiequan Falls early in Exploring the Bonsai Garden in the Humble Administrator's Garden, sitting on an old stone bridge and watching the boats on the canals drift by, the feeling of peace and tranquility they give is wonderful, just the Suzhou's Timeless Romance.
Know more
A brief history
Over 2,500-year-old, much of old Suzhou's architecture and scenery continues to impress visitors with echoes of moonlit walks along the canals through the perfume of osmanthus flowers that time and progress haven't been able to erase. During the Tang dynasty, the Grand Cannal linked Suzhou to the rest of the empire. The canal continues to feed an enormous network of smaller canals that penetrate every part of the city.
Water physically and culturally defines Suzhou. The seemingly infinite maze of canals gave rise to an efficient transportation network, a wealth of picturesque scenery and architecture and lifestyle typical of the eastern Chinese Jiangnan style. Nearby rivers and lakes connected yielded a bounty of fish and shellfish that still dominates the local cuisine. Aquatic images abound in the city's art, and if you travel the canals by boat, your guide may treat you to a rowing song that has remained unchanged for centuries.
A large part of Suzhou's prosperity and renown come from its beautiful and ingenious arts and handicrafts, especially the most prized of Chinese treasures, silk. Suzhou was an early center of silk production and remains so to this day. The city and surrounding countryside are still thick with the mulberry trees that feed the silkworms. The silk trade brought wealth, but Suzhou's real mark was made by its embroidery. Suzhou silk embroidery is a true marvel- on a screen of sheer silk, artists using silk thread finer than a human hair create detailed images on both sides of the fabric, deftly hiding all the knots between the pictures. Vistors to Suzhou can see this painstaking work being done in many local shops. The Suzhou Silk Musem is also a good place to learn more about silk production and they have interesting displays detailing each step of the silk making process.
Must see
Attractions in Suzhou