Chengdu Tourism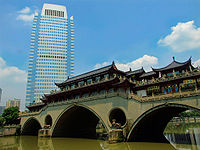 Chengdu (Chinese: 成都; Pinyin: chengdu)

Total: 11,000,670

12,390 square km (4,783.8 square mile)

The fertile Chengdu Plain, on which Chengdu is located, is called Tianfuzhiguo in Chinese, which literally means "the Land of Abundance".
Chengdu, capital of Sichuan province, is not only China's important industrial base, but also a well-know historical and cultural city in southwest china, with a history of 2,500 years.
Covering an area of 12,390 square kilometers and a population of 9.8 million, with 7 districts and 12 counties. With the country's reform and opening to the outside world, Chengdu, an ancient city is now turning a new page and moving forward to a cosmopolitan city.
Chengdu is endowed with unique natural conditions and beautiful environment. It has a pleasant climate, and exquisite lush mountains. It's mountainous in the north-west area, with plains in the south-east area, and low hills in-between.
It has a sub-tropical climate with an annual average temperature of 16.2 degree Celsius, and rainfall of 1.000 millimeters, and a frost-free period of about 300 days. Its mineral deposits include coal, iron, talcum, serpentine, dolomite etc. It abounds in agricultural resources.
Chengdu's main industries comprise machinery, chemicals, metallurgy, foodstuff, textiles, and especially measuring and cutting tools, airplanes, chemical equipment, analytical instruments, TV sets, computers, seamless-steel tubes, metal products, fertilizer, aluminum processing, electrical machines, wood-processing etc. which hold an important position in China.
Chengdu is a major production base in China for commodity grains, rape seeds, and pigs, and abundant in peanuts, sesame seeds, cotton, sugar-canes etc. Famed as " Heavenly Land ", it has a rich supply of various products.
Chengdu is a railroad hub in South-west China, and has convenient highway and air transport as well. Chengdu has embarked on the road of building itself into an international metropolis functioning primarily as the center, in South-West China, of science and technology, commerce, finance as well as communication and transport.
Attractions in Chengdu
Temple of Marquis Wu: a memorial shrine of the prime minister, Zhuge Liang of the Shu Kingdom (221-263A.D.)
Du Fu's Thatched Cottage, a monument to the Tang Dynasty(618-907 A.D)poet, Du Fu
Wenshu Monastery: an active Buddhist monastery housing 200 odd Buddhist figures and objects
Qingyang Temple: a well-known Taoist temple first built in the Tang Dynasty(618-907 A.D)
Dujiangyan Irrigation System
Qingcheng Shan (Green-city mountain)
Baoguang Monastery (Divine Light Monastery)
Leshan Grand Buddha
Mt. Emei