Kashgar Tourism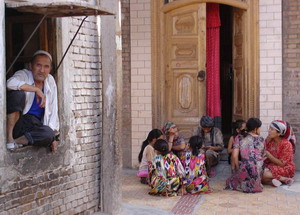 Kashgar (Chinese: 喀什, Pinyin:kashin)

351,874

294.21 square km (113.6 sq mile)

Kashgar is situated in the southwest of Xinjiang. From the west, this is the first point of arrival on land routes from Pakistan and Kirgyzistan.
Overview
Bring lots of camera film because you will want to photograph everthing, Kashgar, this far-flung city in the Xinjiang Uyghur Autonomous Region is a must-see for its beautiful scenery and intoxicating culture. Located in a little cul-de-sac, framed by desert dunes, and rolling mountains, Kashgar was once a last stop outfitting station and trading post for travelers and merchants playing the ancient Silk Road that linked China, India, Pakistan and the great Roman Empire. Today, trade continues to weave its timeless magic.
Miraculously, modern China peels away to reveal the arresting sights, sounds, fragrance and atmosphere of a 2,000-year-old Middle Eastern town. Open air markets hum with squaqwking livestock and the buzz of locals. Every so often, old mosques peep out from a labyrinth of well-worn, humble homes and rouse the neighborhood with calls to prayer. Perched on the western rim of the world's largest inland basin, the Tarim Basin, and nestled beside the desolar Taklamakan Desert, which ominously means:"those going in never return", Kashgar is an oasis carved of sand and stone.
Know More
In the ancient enclave called the Old Town, sinuous paths barely two-mules wide are lined with age-old shops. Generous legs of lamb, succulent mutton strips, leather, pots of all shapes and sizes or caps for every occasion hang from rickety wooden beams-the same as it's been for centuries. Newer shops announce their service on signboards in three language: Uyghur, Chinese and English for the adventurous foreigner.
This mesmerizing Muslim city tucked away in China's westernmost frontier brims with color and contrasts. Fridays and Saturdays may be quiet prayer days but when Sunday comes around, watch the city thrive with life. The entire community and visitors by the thousands throng Kashgar's famed Sunday Market.
Kashgar is miles from nowhere, but the items that turn up at its markets are varied. At the weekly Animal Bazaar, fowl and various four-legged animals are scrutinized, prodded and traded. One or two donkeys may even be taken for test drive.
Oberve the traders closely for their bargaining is an ancient art form; the sellers and buyers indicate their asking price and counter-price by scriping it into each other's palms all the while shaking each other's hand.
People of the region give Kashgar its unique vitality and charm. Over a dozen of China's ethnic groups live in Xinjiang and the majority can be found in Kashgar, several belong to nomadic tribes from nearby mountain villages. Uyghurs, mostly Sunni prepared for a melting pot of Central Asian faces that in the maze of roadside stalls and teahouses.
Festivals in Kashgar
Korban Festival
The Korban Festival, also known as the Zaishing jie, is one of the liveliest times to be in Kashgar. Preparations for this festival take place days beforehand with families cleaning their homes and preparing a feast. The men, wearing their best clothes, head to the Id Kah Mosque for a prayer ceremony then return home to prepare a slaughtered lamb or calf. Later, the men return to the mosque and perform the religious Sa Ma Dance. The festivities last for three days with thousands of people filling the squares in an ocean of celebration.
Ramadan
Ramadan si Islam's most important religious observance; this is when Muslims belive the Holy Quran was given to Muhammad from Allah. It's time of contemplation and reflection into their faith. During th month long observance, Muslims are forbidden to eat or drink during the daylight hours, only breaking their fast at night. During the evenings they also visit friends and family and attend special prayers at their mosque.
Eid al-Fitr
The beginning of Shawwal, an Islamic month, marks the end of Ramadan and the beginning of a three-day celebration called Eid al-Fitr. The ending of the fast is a time of great festivities marked by feasting and giving of gifts.
Must see
Divine Tombs
Id Kah Mosque

Id Kah Mosque is in the center of the city and is China's largest mosque. Built in 1442 by Kashgar's ruler Shakessimirzha in what was then the outskirts of the town, the beautiful yellow-tiled mosque has undergone much restoration. The central dome is flankd by minarets more commonly seen in the Middle East. Its exquisite Islamic architecture sets it apart from Chinese styled mosques and its grandness has grown with its increasing stature.

Abakh Khoja Tomb

The Abakh Khoja Tomb is the family tomb of Abakh Khoja, a powerful 17th century Kashgar ruler. Built in 1640, this tomb holds five generations of his family. The tomb is an architectural masterpiece and one of Xinjiang's holiest places. During the Korban Festival, Mustlim pilgrims from all over Xinjiang visit this tomb.

Fragrant Concubine Tomb

Another important tomb is the Fragrant Conbubine Tomb, which belongs to Abakh Khoja's granddaughter, Iparhan. Legend goes that Iparhan, known as Xiangfei in Chinese, was taken to the capital to be the imperial consort of the Qing emperor Qianlong, who fell desperately in love with her. She spent 28 years in the Forbidden City and never saw her family again. There's a tomb belonging to her in the Eastern Qing Mausoleum, where the rest of Emperor Qianlong's concubines are buried, but the final resting place of her mortal remains continues t be a point of contention.

Trip to Karakul Lake

Hire a four wheeler in the early morning and hit the Karakoram Highway before the heat gets to you. You'll be on the road for 4 to 5 hours, give and take the several stops for compulsory picture taking. Hiking around the lake's rugged terrain takes about 5 hours during which you'll see a Kyrgyz village and graveyard cast against a backdrop of snow-capped mountains. You get to sleep in tents called yurts at an altitude of 3,600m. It's beautiful, but gets quite chilly at night.