Victoria Anna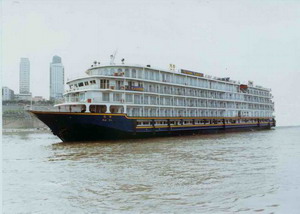 Victoria Anna is one of the best 5-star ships in Yangtze. The victoria series is the only one which managed by American Company with quality assurance. All of the rooms are equipped with balcony, internet connection, satellite television and so on. There are 4 suites in the ship equipped with private bathroom with a bath an shower.

Not only can the visitors enjoy the beautiful scenery in Yangtze, but also they can join in the varius of activies on the ship, such as champagne party, folk performances, Karaok and so on.
Sunday
Monday
Tuesday
Wednesday
Thursday
Friday
Saturday

1

2

3

4

5

6

7

8

9

10

11

12

13

14

15

16

17

18

19

20

21

22

23

24

25

26

27

28

29

30

31

Prices are quoted for Standard Cabin
Cruise Calendar of all ships
Need a cruise for a set date?
We have listed the most up to date cruise calendar below so that you can plan your trip well ahead of time. Click on the month for a detailed calendar of possible departure and return dates. Next, select your chosen date and get ready to embark on a fabulous voyage down the mighty Yangtze!