Victoria Katarina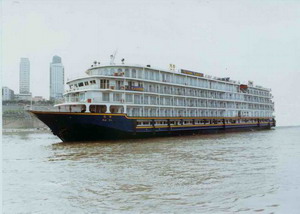 Victoria Katarina set a new standard in cruise ship design for Yangtze River cruising when it was inaugurated in 2004. The premier ship is constructed with Victoria Cruises personal touches blending both modern and elegant architechture.

The ship adopts high-tech navigation system and remote control device toensure safe navigation, devotes all its power to build a luxurious, homelike and comfortable home on water for the guests.
Katarina shares many things in common with large ocean-going cruise ships: a high priority on service and comfort, an attentive cruise staff, and an emphasis on food quality and convivial dining. River cruises differ from conventional cruises in several ways. Instead of typical onboard entertainment, expect lectures on the geography and history of the river being sailed, as well as culture-based activities and entertainment. (In Katarina's case there is a "river lecturer," and a cruise staffer who is designated "kite master," who teaches about kite construction and flying and takes passengers to the top deck to actually fly kites from the moving ship.)

Like other river cruises, Katarina's Yangtze itineraries feature more sailing time during daylight hours than open sea cruises to maximize viewing the constantly changing tableau of cities, rice paddies and dramatic gorges that make up living backdrop of the banks of the Yangtze.

Service is exceptionally personal. Like most Chinese, the crew of Katarina seem honestly friendly toward, and curious about, Americans. Granted, there is the occasional language impasse, but this is more than made up for by the warmth and care lavished on Katarina's guests. By way of example, on the day after a night-long downpour we returned to the ship after slogging through mud-choked streets. Upon our return, an announcement on the ship's P.A. system asked us to leave our shoes in the hallway outside our cabins when we went to lunch. When we returned to our cabins after the noontime meal we found that every passengers' shoes had been cleaned and returned.

Fact Sheet
| | |
| --- | --- |
| Started Operating : 2006 | Standard Cabins: 119 |
| Total Passengers: 266 | Superior Rooms: 6 |
| Length: 98.6m | Presidential Suites: 2 |
| Width: 15.2m | Deluxe Suites: 6 |
| Floor: 4 | |
Room Facilities
| | |
| --- | --- |
| Service Desk with Safety Deposit | Tea Bags |
| Swimming Pool | Life Jacket |
| Sun Deck | Hair Dryer |
| Free Mineral Water | Weight Balance |
| Dining Rooms –Chinese and western | Active Window |
|  Television | Mini Refrigerator |
| Central Air Conditioning | Mini Bar Counter |
| Slippers | Vacuum Bottle |
| Bathtub | Laundry |
Activities
Attend lessons on: Tai Chi, painting, calligraphy, and kite-flying
Learn Mandarin language.
Live entertainment in Yangtze Club featuring traditional performing arts and cultural costume shows.
Cruise equippment: Karaoke, Chess Room, Massage Room, GYM, Sauna Room, Beauty Salon

Prices are quoted for Standard Cabin