Victoria Anna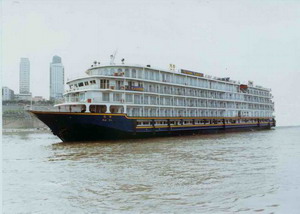 The Victoria Anna is among the largest and most elaborate vessel in the Victoria fleet cruising the Yangtze, offering the most suites of any ship sailing China.

Being the only American managed cruise fleet on Yangtze River, Victoria Cruiselines has been the leader in cruising along the ancient waters of the Yangtze and its magnificent Three Gorges for over 12 years.
Designed for maximum comfort, flexibility and maneuverability, and with their special double-bottom hulls, the Victoria Cruises ships epitomize safe and smooth navigation on the Yangtze's spectacular twists and turns. For a traveler through China, stepping aboard a Victoria ship is like entering a different world. The atrium lobby, with its chandeliers, rich carpet and gleaming woods promises luxury. The uniformed staff gives each guest a warm welcome and swift check in. Though the ships are in China, the ambiance is Western and the line's American management shows.
All cabins will have bathrooms complete with a shower and bathtub, television with HBO and BBC broadcasts, and private balconies so guests can appreciate the magnificent views of the Yangtze any time.

Facilities onboard the Anna also include two restaurants, two elevators, a three-story atrium lobby, two lounges, three bars, gym, beauty salon, massage room and gift shop. In addition, the Victoria Anna also offers internet access and same-day laundry service.
Service is exceptionally personal. Like most Chinese, the crew of Anna seem honestly friendly toward, and curious about, Americans. Granted, there is the occasional language impasse, but this is more than made up for by the warmth and care lavished on Anna's guests. By way of example, on the day after a night-long downpour we returned to the ship after slogging through mud-choked streets. Upon our return, an announcement on the ship's P.A. system asked us to leave our shoes in the hallway outside our cabins when we went to lunch. When we returned to our cabins after the noontime meal we found that every passengers' shoes had been cleaned and returned.

Fact Sheet
| | |
| --- | --- |
| Started Operating : 2006 | Standard Cabins: 134 |
| Total Passengers: 308 | Superior Rooms: 16 |
| Length: 106m | Shangri-La Suites: 2 |
| Width: 16.6m | Deluxe Suites: 2 |
| Floor: 5 | |
Room Facilities
| | |
| --- | --- |
| Service Desk with Safety Deposit | Tea Bags |
| Swimming Pool | Life Jacket |
| Sun Deck | Hair Dryer |
| Free Mineral Water | Weight Balance |
| Dining Rooms –Chinese and western | Active Window |
|  Television | Mini Refrigerator |
| Central Air Conditioning | Mini Bar Counter |
| Slippers | Vacuum Bottle |
| Bathtub | Laundry |
Activities
Welcome champagne Party, folk performances, final Party.
Learn Mandarin language.
Live entertainment in Yangtze Club featuring traditional performing arts and cultural costume shows.
Cruise equippment: Karaoke, Chess Room, Massage Room, GYM, Sauna Room, Beauty Salon

Prices are quoted for Standard Cabin