Dali Old Town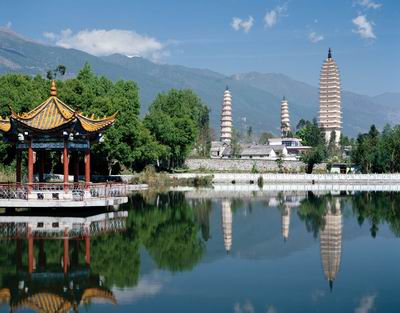 Dali (Chinese: 大理; Pinyin: Dali)

Total: 590,000

1,468 square km (566.8 square mile)

Dali is the ancient capital of both the Bai kingdom Nanzhao, which flourished in the area during the 8th and 9th centuries.
Dali in western Yunnan covers an area of 29,500 square kilometers. Its 13 ethnic groups include the Bai, Yi, Hui, Miao and Naxi ethnic minorities, and all who come here are impressed and amazed at their peaceful compatibility.

Old Town and New City
Dali and Yunnan's capital Kunming are only a 40-minute flight apart. Dali's newly finished administrative district that houses the newly opened Dali International Convention Center is in Longshan District. The Dali government's urban planning keeps its old and new districts separate, so those coming here for the first time often feel they have entered a time tunnel.

The old town, north of the new city, was built during Ming Dynasty emperor Hongwu's reign (1368-1698). Owing to the distance between them, the old city is still peaceful and quiet.

A stroll through the ancient city, with its paved roads and ancient style houses with black tiled roofs lining the roads is like unrolling a poetic scroll.
The streets heave with stalls selling Bai ethnic batiks, preserved fruits and tobacco.
In the Jade market can always be found a group of visitors fascinated with Dali's marble handicrafts, particularly those fashioned into the four treasures of the study C the writing brush, ink stick, ink slab and paper C as well as standing and hanging screens, vases, wine cups, incense burners and other decorations.
Many people come here to live, among them entrepreneurs, craftsmen, artists, musicians, architects and tourist agents. Dali provides a platform for exchanges in art and craftsmanship, and the chance to experience diverse lifestyles.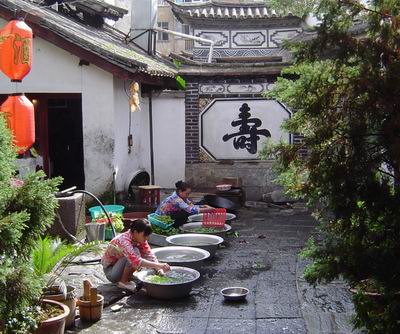 Xizhou as a town that is famous for the Bai minority culture. The old houses and streets are well preserved.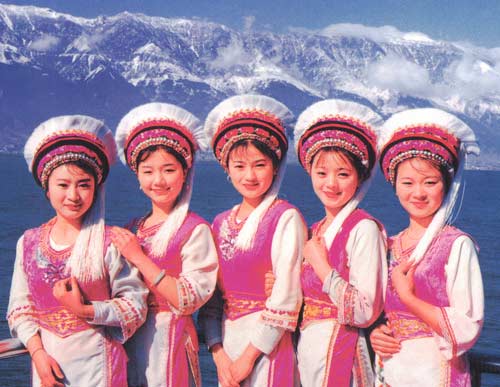 The Bai people are Buddhists and worshippers of "communal god."