Zhongdian Tourism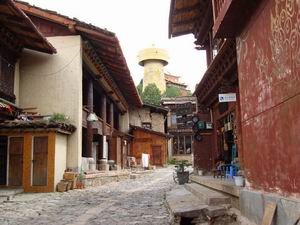 Zhongdian is surrounded on all sides by snow-capped mountains, dense primeval forests, alpine lakes, and lush grassland.
At the end of 2001, the name of Zhongdian County, capital of Diqing Tibetan Autonomous Prefecture in southwestern China's Yunnan Province was changed to Shangri-La County.
Above it float fluffy white clouds, and on the grassland below wander herds of cattle and sheep. Its Buddhist temples receive throngs of pilgrims, and Tibetan people and those of other ethnic groups live here in harmony. The air is fresh, and the scenery sublime. Birdsong accompanies sonorous Tibetan folk songs, and the Tibetan dances, performed against this enchanting backdrop, are a visual feast.
Dukezong Old Town, a 1300-year-old Tibetan town located in Shangri-La, which it has experienced both the flames of war and prosperity of frontier trade. Dukezong Old Town's authentic Tibetan dwellings, majestic prayer halls and pagodas, winding lanes offer sanctuary to all those seeking refuge from the bustle city.
Lamaseries
Lamaseries are a cornerstone of Tibetan culture. The most famous include Gaindain Sumzenlin and Dongzhulin monasteries. The former is the largest of 24 lamaseries in Diqing Prefecture and acts as center for the Yellow Sect in the Sichuan and Yunnan areas.
Befor 1949, it was site of the foremost level government offices in the region. Built in 1674, and, at the behest of the fifth Dalai Lama, modeled on the Potala Palace, the monastery covers an area of 30 hectares.
At its zenith, the monastery housed 1,400 lamas and nine living Buddhas. The monastery's most precious relics are its eight gold leaf coated statues of Sakyamuni, as well as numerous exquisite sculptures, tangkhas, ritual implements, and priceless Buddhist scriptures.
Dongzhulin Monastery is located in Deqen County. It was built seven years prior to the Sumzenlin Monastery on a mountain slope. In October every year it holds a grand ceremony, when an 8.5-meter by 5.2-meter image of the guardian deity, woven in silk, is displayed. A traditional grand prayer and sutra chanting ceremony, attended by numerous pilgrims, is simultaneously held.
Snow Mountains
Snow-capped mountains occupy an important place within Tibetan Buddhism, being regarded by Tibetans as sacred.
Meili Snow Mountain, one of the few snow mountains in the world yet to be conquered by humankind, is 849 kilometers from Kunming, capital of Yunnan Province.
At 6,740 meters above sea level, its main peak, Mt. Kawagebo, is the highest in the province, and on its southern slope is a magnificent waterfall. Mt. Kawagebo is said to be the guardian god of the Ningma Sect. At Tibetan New Year, pilgrims throng here to worship.
Summer is the best season to see Meili Snow Mountain, with its snow-capped peaks, dense forests, vast grasslands and beautiful wild flowers.
A visit to the two glaciers beneath Mt. Kawagebo is highly recommended. The glaciers' low latitude and high altitude, and outreach of 2,000 meters make them two of the rarest modern glaciers in the world.
Baimang Snow Mountain, also called Baima Snow Mountain, in Deqen County, is a national nature reserve. It is an extended area of primeval forest, and also a reserve for the endangered golden monkey.
Haba Snow Mountain is one of Yunnan's provincial nature reserves, located in the southern part of Shangri-La County. The Haba Snow Mountain has the largest variety of animals and plants anywhere in China, and is known as a "natural alpine garden," "the kingdom of alpine animals and plants," and "the world's gene bank for decorative plants."
Napaihai Lake
The Napaihai Lake is 5 kilometers from the county town of Shangri-La. At 4 to 5 meters deep, the lake is famous as the winter habitat of the black-necked cranes, a national protected bird species. The cranes arrive in September or October, and leave in March the following year.
Bitahai Lake
It is 2,500 meters east of the county seat, covers 159 hectares. Around it are ancient pines and oaks. The Bitahai Lake water is clear, and in it swims a unique fish species, the "Bita double-lipped fish," a remnant from the Quaternary Glacier. The mid-lake islet, reached by boat, is another unique sight. On it is a winding path that leads to a place of quiet, contemplative seclusion.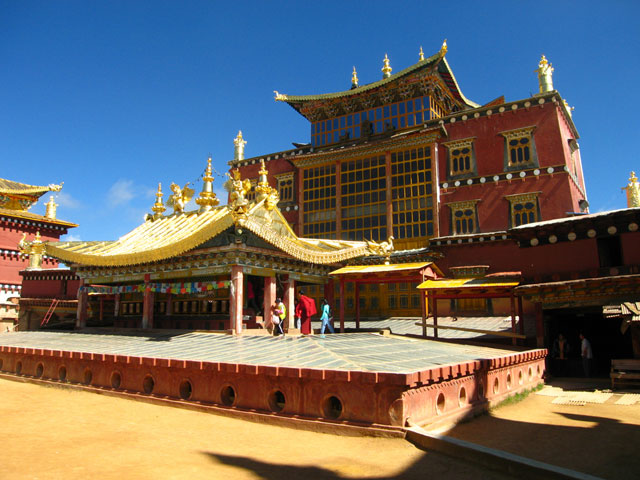 Sumzanling Monastery is is located on a mountain slope of Zhongdian. It is the largest Tibetan Buddhism monastery in Yunnan Province.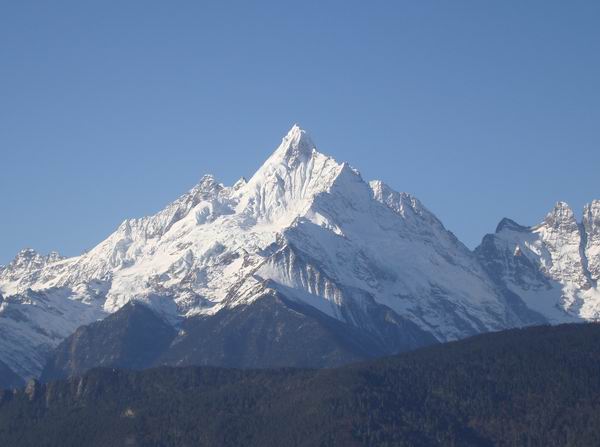 The summit of Meili Snow Mountain is Mt Kawakarpo. It is located at the junction of the Jinsha River, Lancang River and Nu river.