Songpan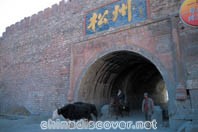 Songpan's history dates back 2,300 years. It is the oldest county in Aba Prefecture. In 1379 Zhu Yuanzhang (1162-1227), founding emperor of the Ming Dynasty, established Songzhou Guard, which was renamed Songpan after it annexed a nearby area. The ancient town of Songpan was famous as a trade center at the juncture of Sichuan, Gansu and Qinghai provinces.

The town is protected by an ancient wall whose northern gate is the best-preserved section. Two characters engraved on the gate describe the town's old name, Songzhou. The imperial court is said to have dispatched a distinguished general to build the city wall, in view of the town's strategic importance. Each brick weighed 30 kilograms, and the mortar was made of water in which glutinous rice had been cooked, lime and tung oil. Construction lasted five years. The entire structure is 6,200 kilometers long and more than 10 meters tall. Seven arched stone gates punctuate the wall, each inscribed with relief sculptures. The remaining north gate is decorated with a crane and deer motif.

Songpan is famed for its Zhangla goldmine, which went into operation during China's Republican Period (1912-1949). A well-known story among locals tells how the Kuomintang, when fleeing the area, overloaded a plane with gold, and crashed it into a nearby mountain. Many gold prospectors still venture into the mountains in the hope of finding their fortunes.

Songpan's modern history is fraught with tales of woe and catastrophe. During the Anti-Japanese War (1937-1945), the Japanese air force intended to bomb the Zhangla goldmine and so weaken China's economy. The bombers missed their targets and hit the town itself, which lies 20 kilometers away from the mine. Songpan lies on a fault line and has suffered six devastating earthquakes since 1933. The most recent one occurred in 1976, when the ancient wall almost completely collapsed. Attempts to reconstruct this historic wall have been made, but much more work needs to be done. Thanks to the speedy development of tourism in Aba, however, a large-scale restoration plan is in the offing.

Although Aba is a Tibetan and Qiang autonomous prefecture, elderly bearded men sporting distinctive white caps are a common sight on its streets. Muslim culture is widespread in Aba, where there is a large community of Hui people. Its street-life scenario is made complete by the large numbers of Muslim pancake sellers hawking their wares. Songpan is site of a number of Hui ethnic villages. The other three ethnic groups resident in the county are Tibetan, Qiang and Han Chinese. Songpan was once a regular stop for traveling merchants, but its commercial importance is now ancient history.

Buddha Valley
Many tourists come to Songpan to go horse riding. A popular route, particularly among foreign tourists, is a two to three day ride through the scenic Muni Valley. Located at the valley entrance, the Chaggar Monastery is said to be Songpan's only place of worship for the Gelukpa Sect of Tibetan Buddhism. More experienced riders prefer to travel the more demanding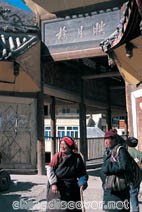 world cultural heritage site of Huanglong and Xuebaoding (Snow Mountain Peak).

The next morning at 8am, I left the town on horseback. Freezing overnight temperatures had transformed the scenery into a glittering world of crystal. I had expected our guides to be Tibetans, but as it turned out they were Hui Muslims, dressed in traditional Tibetan robes. I soon found myself facing a beautiful village and watching a Tibetan woman carry water up a mountain slope. She did not seem to notice us, as we weaved our way up to the mountaintop.

This was the first time that I had ever ridden a horse on a road, but we arrived at the scenic valley without incident. It is said that Buddha Sakyamuni prayed in the Muni Valley, which took its name in reverence of the great sage. Two famous spots in the valley are the Chaggar Waterfall and Erdaohai (Second Lake).

Erdaohai lies several kilometers into the valley. We followed a plank path, and arrived around noon. Bright rays of sunlight pierced the tall spruces, bouncing back up from the snowy ground. There was no one in sight. Before long a pavilion came into view, with what seemed like a large pit before it. Later, I learned that the pit was actually Toudaohai (First Lake), a seasonal lake that is dry for most of the year.

Erdaohai is 20 minutes' ride from Toudaohai. We saw several caves dotted around the lake, all about 10 meters deep. There was also a hot spring by the lake C albeit the coldest one I ever saw. A few brave young men from Chengdu jumped into it, but soon emerged, blue-faced and shivering.

Chuanzhu Monastery
Chuanzhu Monastery lies 17 kilometers north of Jin'an. A few years previously our tour guide had mentioned the monastery and its famous steles while traveling to Jiuzhai Valley. The next day, after a leisurely stroll around the town, I decided to visit the monastery and see the steles for myself. I jumped in a taxi, and headed north. After passing through a toll station, a wide expanse of land came into view. To the right, there was a hill on which stood a bronze statue glinting in the rays of the setting sun. I was nearly there. We drove into the town that surrounded the monastery and found that most of the buildings were either hotels or souvenir shops. The recent opening of the Chuanzhusi Airport has made travel in the area much easier, but as it was winter, there were not many tourists around. Many hotels were closed, and so was the ticket booth at the entrance to the stele park. The park commemorates the Long March and is a very popular spot during the peak tourist season. But when I was there, it was practically deserted, apart from a few kids flying kites in the strong plateau wind.