Wuhou Temple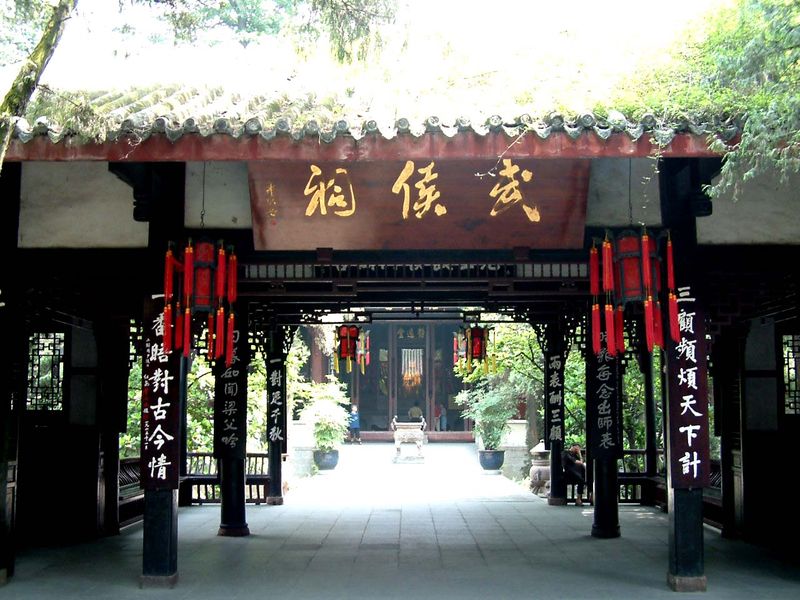 Near Chengdu Old South Gate, beside Wuhou Avenue, there is a complex of ancient buildings surrounded by red walls. This is the Temple of Marquis Wu described in the poem Prime Minister of Shu written by Dufu "Where can we find the Marquis of Prime Minister, it is outside the Jinguan City among the mass of cypress. "
Wuhou might be translated as 'Minister of War', and was the title given to Zhuge Liang, a famous military strategist of the Three Kingdoms Period (220-80 AD) immortalised in one of the classics of Chinese literature, The Tale of the Three Kingdoms. Curiously, Zhuge Liang is not the main attraction of the temple. The front shrine instead is dedicated to Liu Bei, Zhuge Liang's emperor. Liu's temple, the Hanzhaolie Temple, was moved here and rebuilt during the Ming Dynasty, but the Wuhou Temple name stuck all the same.
Temple of Marquis Wu was first built many years ago at the end of Shu (one of the three kingdoms in ancient China); it has been damaged and removed for many times. When it was rebuilt in early Ming Dynasty, it was moved into Hanzhaolie Temple which is sacrificed to both monarch and minister. Temple of Marquis Wu faces south, with an axis running through the main Gate, the second Gate, Liubei's hall and Marquis Wu's Hall . Among them, Liubei's Hall is in the highest place and its construction is very magnificent, showing the most supreme dignity of the emperor.
Stepping into Hanzhaolie Temple, the visitors can see a tablet corridor on either side. The west tablet corridor displays the Tongming Tablet which is seldom visited by people. In the east tablet corridor, the Tongtang Tablet, composed by the famous Prime Minister Peidu in Tang Dynasty, written by the renowned calligrapher Liugongzhou(the brother of Liugongquan); engraved by the great stonemason is called "Three Perfect Tablet", because its article, penmanship, engraving were made all by famous men. Passing through the hallway, in both sides there are corridors with 14 lifelike statues, these are the corridors for the civil and military officials of Shu.
The civil officials' corridor in the east is headed by Pangtong, while the military officials' corridor is headed by Zhaoyun. Temple of Marquis Wu is a memorial temple in honour of Zhugeliang (181-234A.D.), Wuxianghou, Prime Minister of Shu in Three Kingdoms Period. It began to build the temple at the end of Western Jin Dynasty and take shape in Tang Dynasty. Early in Ming Dynasty, the Temple was merged with Hanzhaolie Temple, which is in honour of Liubei(161-223A.D.). It has got rebuilding in 1672(the 11th year of Kangxi Period of Qin Dynasty). It has been over 1500 years till now.