Jiangsu Tourism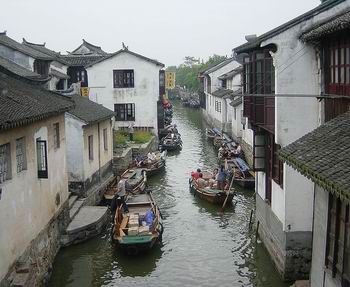 Jiangsu (Chinese:江苏, Pinyin: Jiangsu))

77,245,000

102,600 square km (39,600 sq mile)

Jiangsu is located along the east coast of the country. It has a variety of historic sites.
Overview
Jiangsu is located along the east coast of the country. Jiangsu borders Shandong in the north, Anhui to the west, and Zhejiang and Shanghai to the south. The name comes from jiang, short for the city of Jiangning (now Nanjing), and su, for the city of Suzhou.
The abbreviation for this province is su, the second character of its name. Jiangsu is the province with the highest population density in China, though provincial level municipalities like Shanghai, Beijing, and Tianjin have a higher density.
Since the inception of economic reforms in 1978, Jiangsu has been a hot spot for economic development, and is now one of China's most prosperous provinces.
Know more
Geography
Jiangsu is very flat and low-lying, with plains covering 68 percent of its total area (water covers another 18 percent), and most of the province not more than fifty meters above sea level. Jiangsu is also laced with a well-developed irrigation system, which earned it (especially the southern half) the moniker of Shuixiang ("homeland of water").
Jiangsu also borders the Yellow Sea. The Yangtze River, the longest river of China, cuts through the province in the south and reaches the East China Sea.
Mount Yuntai near the city of Lianyungang is the highest point in this province, with an altitude of 625 meters. Large lakes in Jiangsu include Lake Taihu (the largest), Lake Hongze, Lake Gaoyou, Lake Luoma, and Lake Yangcheng.
Tourism
Nanjing was the capital of several Chinese dynasties and contains a variety of historic sites, such as the Purple Mountain, Purple Mountain Observatory, the Sun Yat-sen Mausoleum, Ming Dynasty city wall and gates, Ming Xiaoling Mausoleum (The mausoleum of the first Ming Emperor Zhu Yuanzhang), Lake Xuanwu, Jiming Temple, the Nanjing Massacre Memorial, Nanjing Confucius Temple, Nanjing Yangtze River Bridge, and the Nanjing Zoo, with circus.
Suzhou is renowned for its classical gardens (designated as a UNESCO World Heritage Site), as well as Hanshan Temple, and Huqiu Tower. Nearby is the water-town of Zhouzhuang, an international tourist destination where Venice alike waterways, bridges and dwellings have been preserved over centuries.
Suzhou is so crisscrossed with canals that it has been dubbed "Venice of the East" or the "Venice of the Orient".
Yangzhou is known for Thin West Lake. Wuxi is known for being the home of the world's tallest buddha statue. In the north, Xuzhou is designated as one of China's "eminent historical cities".
Must see