Danba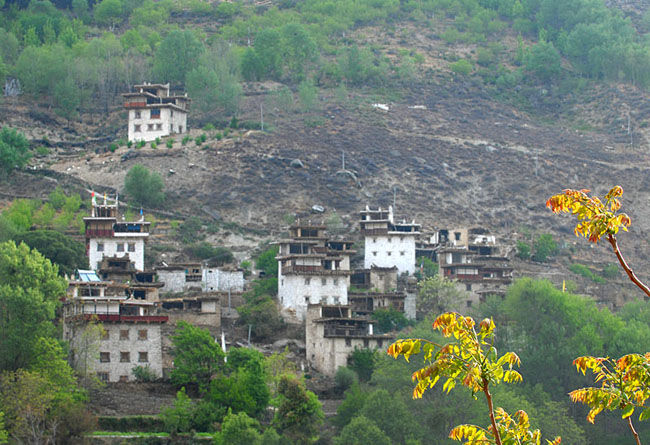 Danba is a small county in the mountain valley whose residents are Gyarong Tibetans, or farmers living in a mild climate. This area of Tibetan-speaking hamlets perched stunningly on 8,000-foot-high mountainsides that loom over the town of Danba, has long been a way station on a circuit through the country's southwest, which is home to some of China's most exotic travel destinations.
Today, the gorgeous hillsides here buzz with activity: the felling of trees to build the distinctive Tibetan houses, with their maroon and white trim, which are nowadays put into service as guest lodges, and the smoke-belching, horn-blowing buses carrying tourists who arrive each month in ever greater numbers.
The takeoff has been so pronounced, in fact, that some of the villagers of Danba are wondering whether their success might not one day soon recall another fairy tale, the killing of the goose that laid the golden egg. But that is perhaps getting ahead of the story.

This settlement's break with timeless isolation came in 1998, when a mysterious adventurer from Hong Kong drifted through the area, making his way up the rugged slopes that overlook Danba and discovering this village and a remarkable local family.

"Lamu" is the name of what seems like 1/3 of Tibetan women in this area. Another third seems to be named "Zhuoma." "Da Lamu" means "Big Lamu." The "Da" (Big) is added to differentiate her from her little sister "Xiao Lamu" (Little Lamu).

There were three young women in the household, already known locally as the "three beautiful sisters," including one who had recently won third place in a regional beauty contest. If that didn't get the traveler's attention, it soon became clear that this was no ordinary family, and that these were no ordinary sisters.

In a region of poor subsistence farmers, where many peasants speak little Chinese and few girls go far in school, the three sisters had been raised by farsighted parents to speak Mandarin, and they were full of spunk.
Danba (Rongzhag) Zhanggu town
Located cast of the Tibetan Plateau in western Sichuan, with its green mountains and waters, birds and flowers, is the most brilliant pearl of Kantse. The Tibetan-Gyarong style buildings and watchtowers are surrounded by fields and orchards. Danba men are strong and the women are pretty, special in Badi for the Beauty Valley. Stone castles as Thousands Watchtowers of Kingdom with it's various Gyarong folk residence as Jiaju for it famous. The Molto Holy mountains with it's unique Gyarong culture play important roles in Danba county.

Jiaju Residential House
Jiaju Tibetan folk house (residence) has very special feature. It is detached wooden house with 3-4 layers, with a flat roof. The staircases are made of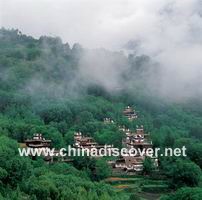 split logs in the corners. The bottom usually used for the stable livesstock, upper layers as bedrooms and the flat roof as place to dry up their grains etc. T-shaped structure built on the roof, which can serve as a place for putting in grains and farming tools; or taking shade or sleeping in hot summer. The outside of walls are painted as Sky, Moon, Global, and Star etc in white with kind of white earth, which is believed to bring luck, protection and grace.

Shuopo Watchtower in Rongzhag
Rongzhag, famous of "Thousand stone castle kingdom", with many kinds of old stone castles (watchtower, "Qionglong" in ancient) scattered over the county, built as early as 1700BC. The watch tower in Shuopo village is very varities.

There used to be 5,000 watchtowers in Danba, but only 343 that mostly date back 200 to 1,000 years remain. Local inhabitants have a custom of adding one storey to a watchtower to mark each year of a boy's growth until he reaches 18 years old. Usually 30 meters high, Dongba's highest watchtower stands at 60 meters, with four, five, eight or thirteen corners. During Qing Dynasty (1644-1911) wars in the area that lasted for 30 years these watchtowers were a vital aspect of military defense as they could provide human sanctuary for 15 days. The height of watch tower from 16-35meters, they stand on hillsides or the top of hills. The materials for the watch tower as stone slabs for the walls, stone blocks for the foundations. Usually designed as ploygonal shapes, such as square, pentagon, hexagon, and octagon, and the best watch tower is 13-sides watchtower as a pearl in Damba area (only about 3 13-sides watchtowers in Gyarong Tibetan area). 4kinds of Watchtower are protected very well in Rongzhag: Strategic Paas, Bezcon-Fire, Village and Dwelling as its different usage.
Holy Molto (Mo'erduo) Mountain & Gyarong Culture
Gyarong (Jiarong) is the general name of the areas around the Holy Molto Mountain. And Molto Mountain is considered to be one of the four famous sacred mountains by Tibetans. Gyarong covers about 160000sq kms and has more than about 20counties or county-level cities.

Molto Mountain, located between the Big Jinchuan river and the Small Jinchuan river, its ranges from Barkham to Jinchuan and Danba, its peak about 5000M, it runs from the south to the north and its rest chains extend several hundreds of kilometers to Ganzi and Aba, walking around this Holy Molto Mountain, to make a pilgrimage, has become common practice in Gyarong Tibetans. 11Jul is the Holy Molto Mountain temple fair day, prayers be there for pilgrimage. It is the main place of origin of Gyarong Culture.
Badi Beauty Valley
In Danba, the girl is very pretty, and every year holds the Beauty Festivals. Special in Qiongshan village (No.1, 2, 3), Badi township, 26Km to Zhanggu town (county seat), there is a Beauty Valley, living many beauty girls.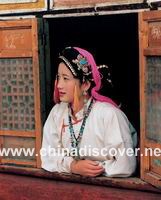 From May21 to 23May in 2001, the 1st Chinese Gyarong (Jiarong) Beauty Feature Festival was held in Danba county, the well-known Gyarong Beauty Valley. It showed the long history and culture of Tibetan nationality in Danba, and also presented its peculiar natural beauty through Gyarong Beauty Competition, distinctive performances and strong folk features.
Jinlong Monastery & "Living Characters of King Gesar"
1000 carved stone characters of the Tibetan epic "King Gesser", the longest epic in the world, have been discovered in Jinlong monastery, Mosika village, Mosika Grassland, Dangong town, Danba, Sichuan, with various sizes, mostly featuring scenes of house-riding, archery and fighting on the battle field. It's called "Living characters of King Gesser", and carved in 200years ago.

The stone figuers using local flagstones, skillful indigenous craftsmen carved gesser's characters into different postures according to the shape and size of flagstones, with defferent techniques such as incised inscription and relief.