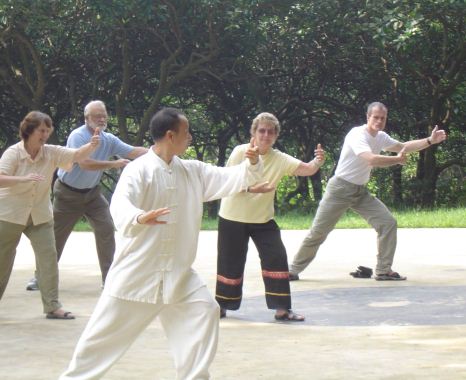 We loved every minute of it

5489

Check a semilar tour available online

Beijing, Xian, Lhasa Chengdu, Guilin, Shanghai

China from border to border: From the mountains on the west to the costal cities of the East
We loved every minute of it
Oct 15, 2009
Hi Billy,
please share this note with Sara, and thank her too for all your help in setting up our trip to China. I thought several times this week about writing and telling you how wonderful our tour was. We loved every minute of it.
Tours
Your  guides were fabulous. We found them all to be professional, friendly, knowledgeble, interesting, and willing to share something of themselves with us. This gave us an exceptionally personal experience which we could not have had with a traditional tour. We want to personally thank Helen in Beijing, Jonathan in Pingyao, Maggie in Xi'an, Dorjee in Tibet, Java in Chengdu, Helen in Yangshuo, and Michelle in Hong Kong for their exceptional service and willingness to do what was necessary to maximize our comfort and ultimately our appreciation of the wonders of China.
 
Its true that my wife sprained her ankle after hiking 13 k. along the Great Wall, and hurt her other ankle on the descent of Hua Shan in Shaanxi Provence. We truly appreciated all of your guide's assistance with adjusting our tour when necesary due to this injury and helping us with Chinese Pharmacies and Tibetan Medicine when needed. This allowed us to continue on at our own pace and contributed greatly to our enjoyment. (the only real changes we made, other than going slower, was to cut out some of the hiking and biking in Yangshuo in favor of more rest, a raft ride on the Yulong River, a visit to an ethnic minority town, shopping in Yangshuo, and wonderful visit to Fuli Town.) So we stayed busy and engaged, just a bit slower, and for us a more leisurly pace. We also found out after we got back home, that she did in fact break the fibula in her foot, but we are greatful nonetheless for each of your guide's expert advice and care.
 
We did get ill for about 24 hrs. after our Cooking School experience in Yangshuo, but hesitate to say how it might have happened. We met the owner, a lovely women from Australia and our cooking teacher was a local Chinese woman of exceptional character, charisma, and ability. We were instucted to wash our hands on numerous occasions, and careful preparation and sanitation was evident throughout. It could have just been just "one of those things", certainly not an indictment of the class itself. We met wonderful people there and had a great time. 
 
Hotels
All of our accomodations were great. We tried to mix it up and not just stay in typical 3 and 4 star hotels. The ambience and locations of all were wonderful. We loved the Emporer's Guard Courtyard Hotel in the Beijing hutang. (very difficult to find, but worth it, and close to everything.) The hotel you picked out in Pingyang was also a coutyard hotel and very, very nice. The Kyushu Hotel in Lhasa was perfect; central location, great little courtyard restaurant, and fabulous view of the mountains. Zen Buddhist Hotel in Chengdu was another little gem... great wooden tub baths and in a nice area to walk around. And Java  took us to a local szechuan hot pot restaurant that we will always remember. The Sofitel, which I found online, was a bit of luxury we needed after two days on the train and the Yangshuo Moutain Retreat was the best! Fabulous views and food. We did have to upgrade to get a balcony, but it was only 15 dollars a night more to stay in their best room. Please thank Helen from Guilin for her generosity of spirit, her insight into ethnic minority populations and her gentle honesty. And last, the Salisbury YMCA in Hong Kong was a great choice for location in Kowloon, and side by side with the several of the best hotels in Asia. We took advantage of our location watching the Chinese National Holiday fireworks celebration on the promenade in front of the hotel. Michelle was full of interesting information and has a really nice sense of humor. It was a short tour, but very meaningful and enjoyable.
 
We also want to thank Helen Cheng for her great care and consideration in Beijing. It seemed that was our busiest time and she might have had the most work to do. We especially want to thank her for joining us on the 13 k. hike on the Great Wall and braving the zip line at the end. Im not sure she knew what she was getting into with us on this tour. Likewise, Maggie is a wonderfully confident and genuine person, who accompanied us up Hua Shan after touring Xi'an, and seems to have a sense of joy about her that is contagious. And Java was wonderful too, her humor and intelligence are very real and we loved our short visit to Chengdu. Jonathon was very interested in photography, and as we planned on being in Pingyao during the International Photography Exposition, he was the perfect tour guide for us. He showed us where to find the exhibits and even introduced us to several photographers. And we cant say enough good things about Dorjee in Lhasa. He was a remarkable young man with a gentle intelligence that carried through our entire time in Tibet.
 
All of our drivers were expert in their ability to negotiate the incredibly difficult traffic tangles of busy Chinese Cities. We were often amazed at what was going on around us and remember being told by someone, that in China it often seems like traffic lights, signals, walk signs and alike are for more for "decoration" and not really taken too seriously. I think we can attest to that. But your drivers did a remarkable job, avoiding mishap and getting us to our destinations without issue. We loved the Red Flag car in Xi'an and also want to site one particular driver for his indomitable spirit, his unflagging helpfulness, and constant good cheer. We cant remember his name, but he was the driver in Tibet!
 
All of our breakfasts were good. Each and every one. Many of the lunches were also quite good, but usually too much food for just the two of us. Several of the lunches were exceptionally good; the beerfish in Yangshuo, the family lunch in the Hutang in Beijing, and really, most of them were fine. We only had one lunch at big hotel in Beijing that was subpar. All the rest, were very nice and very filling. The ambience was always part of the pleasure and we became quite proficient with chopsticks. We chose to eat dinners on own and that also worked out very well for us.
 
In your email, you thanked us for our trust in Sinoway Travel and by extension i suppose, in you and Foring and all the guides and drivers. I think Trust is the right word. And now that we are safely back home and have taken some time to reflect, it was one of the most amazing and magical journeys we have ever taken. Our trust was well founded. We want to thank you and wish you well in the future. If you ever need a reference, we are certainly willing to make ourselves available. Take care and thanks again.
Sincerely, Mary Jean Mork
Testimonials
Testimonials of our trip advisors:
Allan
Bobby
Choury
Christine
Libby
Michelle
Nancy
Sara