Meet the Team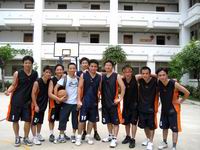 Our people are our strength. All our employees share the same passion: travel. Many of us have traversed China from top to bottom and can create the perfect tour for you.
We know China because we have seen and experienced the tours we sell.
Meet the team that runs China Discover:
Michelle is the captain of our team. She is one of our experienced tour leaders will bring the history and culture of your destination to life, as well as ensure the smooth and safe operation of all aspects your trip.
Nancy is our Customer Support Manager, she has been working as a Tour Director for years and loves every aspect about it.
Sara is a lovely, attentive tour consultant in our Guilin office, she looks after guests' every need and anticipated their possible wants, offering them options for the days activities based on their specific interests.
Allan is that sort of guy who can adapt to a totally new environment within the shortest spell. He speaks Cantonese and knows every route that Guangzhou buses pass, getting familiar with interesting places to go in this city. He impresses his colleagues with endless endeavor and ambition.
Bobby was born and raised in a Dong Ethnic Village in Sanjiang county of Guangxi province, He learnt English by himself, words by words, mostly from his customers when he escorted the trekking tours in Guangxi and Guizhou...
Libby is a real Hunan girl, likes all kinds of spicy food and she has a vigorous personality.
Christine smiles all the time. We all like her sweet smile. She likes sharing her happiness with people.
Choury is a simple, tender, friendly and caring girl.
Winnie is a kind and patient girl. She is our assistant product manager.

More about me