Lhasa Tourism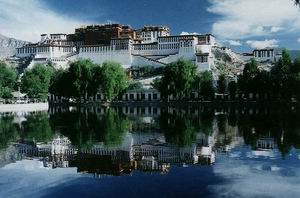 Lhasa (Chinese:

拉萨

, Pinyin:

lasha

)

373,000

53 square km (20.5 square mile)

Lhasa is the administrative capital of the Tibet Autonomous Region, located at the foot of Mount Gephel.
Overview
As the capital of Tibet, over 1,300 years old, Lhasa dates back to the 7th century A.D when the colorful Tibetan figure, Songtsen Gampo, built his palace in Lhasa. In 1642, the 5th Dalai Lama also made Lhasa his capital and rebuilt teh architectural wonder, the Potala Palace, religion which is blended into every aspect of life further define Lhasa's culture. Wherever you are in Lhasa, you're always surrounded by colorful people, striking natural scenery, humbling mountains, flowing rivers, fields of green, gold and yellow and her relics. Though some of the main temples can be busy, just turn the corner of wander off for a few minutes and you'll quickly find yourself in a picturesque rural Tibetan scene out of a postcard.
Know more

After spending hours gazing out of your airplane window at snow peaked mountains, the clouds finally open up to reveal a vast plain surrounded by mountains. It's as if you have arrived in another world of clouds, mountains and color. Lhasa is the heart of this Buddhist land hidden away amongst the mighties mountain range in this world, the Himalayas.
In Lhasa you'll find religion blended into every aspect of life-the city is the spirtual anchor of Tibet. Lhasa literally means "holy land" and it's a well-deserved name. With many holy sites, Lhasa is an important place of pilgrimage for people from far-flung villages. They're easily identifiable with their prayer flags and prayer wheels; the signs of devotion abound throughout the land.
It's easy to forget that you're already at an altitude of 3,650m as you look at the towering mountains that surround Lhasa, but that's why Tibet is also known as the "rooftop of the world." The 93km trip from the airport to the city follow the winding path of the scenic Lhasa River, families work in fields of barley and yellow canolo flowers as young monks walk along the mountains, surronded by ever changing clouds and the deep blue sky.
Lhasa itself is a mixture of old and modern. The city has an eclectic mix of people, Tibetans with their colorful clothes, as well as explorers, mountaineers and tourists from all over the world. There's a saying describing Tibetans, "that if a Tibetan can talk, he can sing; if he can walk, he can dance." This aptly describes their lively and vibrant culture.
Souvenirs
Lhasa has a fantastic array of exotic items, such as Pulu, which is a hand -woven cloth made from wool and most clothing in Tibet is made from wool and most clothing in Tibet is made from this material.
Tibetan Joss Sticks are made from local plants and are seen everywhere. Tibetan Knives are both decorative and practical, most Tibetans carry one. The Knives are inlaid with gold or silver with bone or wood handles. The Scabbards are commonly carved with lion, dragon, tiger or flower desighns and inlaid with gemstones.
The Barkhor Market area is the most colorful and cheapest place to shop, items such as traditional turquoise jewelry, clothing, meditation beads, prayer wheels and white and colored prayer scarves (taras) are available.
Must See
Potala Palace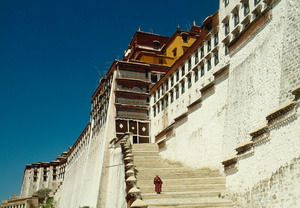 Over 1,300 years old, Lhasa dates back to th 7th century A.D when the colorful Tibetan figure, Songtsen Gampo, built his palace in Lhasa. In 1642, the 5th Dalai Lama also made Lhasa his capital and rebuilt the architectural wonder, the Potala Palace, on top of the ruins of Songtsen's old abode. Today the Potala Palace contines to dominate the Lhasa skyline and is the most visible of all of the city's sights. It offers one of the best views of Lhasa and the surrounding area, especially in the early...more
Norbu Lingka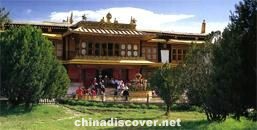 It was Built in 1751 as the summer residerce of the Dalai Lama, lies 3km west of the Potala Palace. As harsh winters gave way to spring, a grand procession of Lama and officials accompanied the Dalai Lama from the Potala Palace to his summer home. Norbu Lingka, which means" jeweled garden," is a fitting title for the large compound of buildings and extensive gardens. The palace contains soem fabulous murals fusing Tibetan history and myth. Some of the finest murals are found at the back of the woods in the Golden Lingka and Chensal Potrang...more
Jokhang Monastery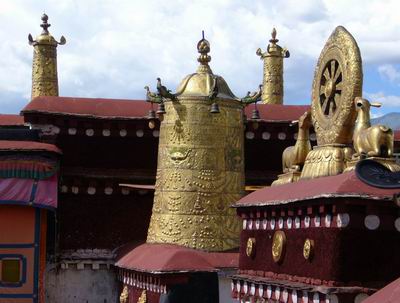 Long streams of pious Tibetan pilgrims walk clockwise in Barkhor chanting prayers with their meditation beads, spinning their prayer wheels or performing full prostrations as they circle the JokhangMonastery, one of Tibet's holiest temples. These devout pilgrims wear yak leather gloves and aprons to protect their hands as they slide over the rocky ground, their reverent prostrations atoning for bad deeds performed in the past...more
Bakhor Street
One of the best places to view modern day Lhasa and its diversity of culture is in the bustling Barkhor Street, a section of the old city. Here, the Barkhor Market has all manner of goods from turquoise jewelry to meditation beads, colorful traditional Tibetan clothes and yak wool sweaters. Here you can watch groups of monks draped in their maroon and saffron robes mingling with Tibetans from remote areas wearing long boots, sporting daggers and large turquoise necklaces...more