Tibet Tourism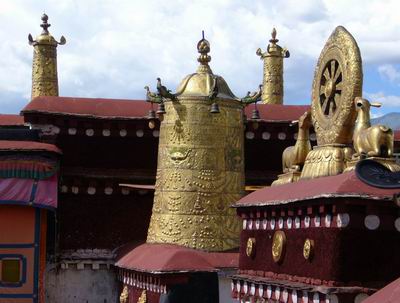 Tibet (Chinese:

西藏

, Pinyin:

Xī Zàng

)

2,840,000

1,228,400 square km (474,300 square mile)

With an average elevation of 4,900 metres (16,000 ft), Tibet has long been a favored destination for tourists from around the world.
Overview
Tibet, the Land of Snows, the roof of the world: For centuries the mysterious Buddhist kindom of Tibet, locked away in its mountain fastness of the Himalaya,has exercised a unique hold on the imagination of the west. For adventurers and traders it was a land of treasure and riches. Those on a spiritual quest whispered of a lost and steeped in magic and mystery.
Tibet is without doubt one of the most remarkable places to visit in Asia. It offers fabulous monastery sights, breathtaking high-altitude trekes, stunning views of the world's highest mountains and one of the most likeable people you will ever meet.
Know more
Location
Locked in by towering mountains, Tibet on the southwestern border lies in the main part of the Qinghai-Tibet Plateau, the highest in the world, at an average altitude of 4,000 meters. Set up as an autonomous region in 1965, it has an area of more than 1.2 million square kilometers.
Topography
The Himalayas in the south of Tibet have an average of 6,000 meters, the highest range on the earth. Their main peak, 8,848-metre Mount Qomolangma on the Sino-Nepalese border, is the summit of the globe. In the north are the Kunlun range and its branch, the Tanggula Mountains; in the middle the Gangdise range; and in the east the Hengduan range with numerous canyons and imposing mountains.
North of the Gangdise range and south of the Kunlun range is the vast Northern Tibet Plateau. The Southern Tibet Valleys between the Gangdise and the Himalayas, crossed by the Yarlungzangbo River from west to east, are the principal farming and pastoral area of Tibet.
Tibets major rivers include the Yarlungzangbo, Nujiang, Lancang and Jinsha. The Tibet Plateau, one of the regions in China with the greatest number of lakes, has numerous salt lakes, the largest being Nam Co. In all, lakes cover a total area of some 30,000 square kilometers on the plateau. Tibet ranks second in the country in hydroelectric power potentials.
Population
Set up as an autonomous region in 1965, Tibet has a population of 1.85 million, of which 15 per cent live in the cities and 85 per cent in the rural areas and 1.65 million are Tibetans, the predominant nationality there, and the rest Huis, Moinbas, Lhobas and Hans.
Must see