Hualin Si Temple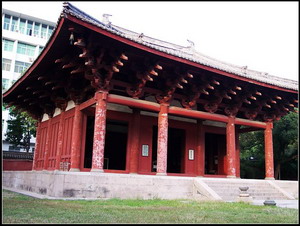 On the southern slopes of Mount Pingshan in the north of Fuzhou stands the Hualin Si Temple, from the Tang period (618-907). The main building, the Sumptuous Hall of the Great Hero (Daixong Baodian) built in the Tong era (960-1279), is all that remains of the early edifice, the other buildings having been added during the Qing dynasty (1644-1911).
Hualin Temple (Hualin Si) is located at the foot of Ping Mountain north of palace area in Fuzhou of Fujian province. It was built in the Northern Song Dynasty (960 – 1279).
The temple is the oldest wooden construction in south China. The temple construction got its characteristics. The audience hall is 15.5 meters high and the area is 574 square meters.
There are 18 wooden pillars inside the temple. Above the pillars, the arch supports the pillars there and is not even a single nail in the palace.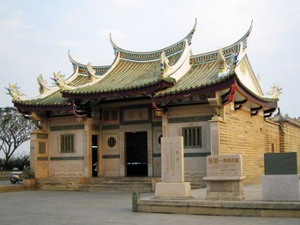 Jimei is a small town on the other side of the bank facing north Xiamen Island, 17 kilometers (about 11 miles) from the Xiamen city center