Tea Culture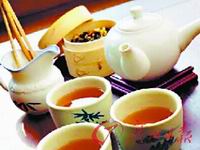 Overview
Guangdong people have the custom of drinking tea, the long history of tea drinking tradition can be traced back 100 years to the Qing dynasty (1644-1911). In those days, Guangdong locals uesd to go to a nearby teahouse, such as the " Two-Cent Teahouse" is very popular , where they need to pay only two cents for a pot of hot tea and some simple snacks.
Know more
By the later Qing period, teahouses in the true sense had emerged in Guangzhou. These were more expense places offering much better tea
with a variety of delicacies. The teahouse had become the best retreat for
the professionals and businessmen as well as good friends.
The Cantonese like to spend their leisure time at the teahouses for different reasons. Most of them would like to go to the same teahouse as usual, where they would like the same seat to meet with their friends and fellows, inform each other of community gossips, or just have small talk among themselves. Sometimes, they simply talked of the hard life they endured.
The real tea-drinkers, for example, preferred to kill time with one pot of fragrantly hot tea and two plates of snacks.
As time passing by, teahouses have prospered ever since they appeared in Guangzhou. Drink tea has become an inseparable part of the local life. Nowadays, it is tradition for many locals starts with the morning tea in a day. So, if you are staying in Guangzhou and want to know about the local customs, better join the Cantonese in their passion for morning tea. In the midst of the crowds of Cantonese teahouse goers,you may get a better idea of what life is like in Guangzhou.
Must Try
Kungfu Tea
Kungfu tea is mainly popular in the east of Guangdong area. The tea service is superb with a set of delicate cups, the earthen kettle, the best-chosen tea and special tea serving. It is an art as well as a way of life for the locals. The tea serving ceremony is carefully carried out, whenever there is a tea party or treatment to entertain guests, friends, or simply among the family members.
Tours in Guangzhou:
Chimelong Paradise Park Chime International Circus
Chimelong Water Park Xiangjiang Safari Park
One day Guangzhou tour One day Foshan tour One day Zhaoqing tour