Guangzhou Tourism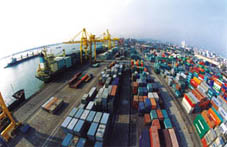 Guangzhou ( Chinese: 广州, Pinyin: Guǎngzhōu, Other Names: Canton)

Metro: 9,754,600

Located in Guangdong Province, about 120 km (75 miles) northwest of Hong Kong. .

Guangzhou is a regional center in south China in terms of its status as a transportation and trading port, known as the southern gateway to China.
Overview
Guangzhou with a history of more than two thousand years, is the capital of Guangdong Province, located in the mid southern region of Guangdong, about 120 kilometers from the northwest of Hong Kong. As an important transportation hub and trading port, it is known as the southern gateway to China. Guangzhou covers an area of 7,434 square kilometers and has a population of 6.85 million. The weather is mild and sunny all the year round, and not too cold in winter, for it belongs to the humid subtropical climate.The annual average temperature is 23 degrees Celsius.
Know more
Guangzhou History
Guangzhou was called "Chu Ting" in the 9th century BC. In the early 226 A.D, One king, named Sun Quan, the Kingdom of Wu , he divided Jiaozhou region into two administrative parts, one was still named Jiaozhou and the other one named Guanghzou, hence name "Guangzhou". It was not until 264 AD, Guangzhou as a prefecture finally gained its roughly stable administrative status in the course of history.
Guangzhou Culture
Guangzhou has inherited a mixed cream of the Eastern and Western, traditional as well as modern cultures, labeled as Lingnan culture with a distinctive style of music, puppet show, opera, painting, literature, architecture, cuisine, social norms and customs, ways of life and southern charisma. For example, Lingnan Painting is characterized with a strong regional heritage, well known for it life paintings and Lingnan sceneries. Local fine art crafts, such as carvings, porcelains, ceramics carvings and embroideried are popular both at home and abroad. Lingnan culture is an important school of the traditional Chinese culture as is mentioned in the previous chapter.
Guangzhou Tourism
Guangzhou is not only rich in cultural heritage but also rich in tourism.
There are many famous churches, temples, and lots of appealing tourist attractions and colorful festivals, such as Sun Yat-Sen Memorial Hall,Temple of Six Banyan Temple, Chen's Ancestral Temple, Southern Yue Tomb Museum, Yuexiu Park, Shamian Island, Baiyuan Mountain, Pearl River Night Cruise, Flower Festivals, etc.
Pearl River Night Cruise
There has been a century saying praising the Pearl River :"One can not be considered to have visited Guangzhou if he hasn't cruised the Pearl River "
The night view on the Pearl River is magnificent, recommend you to take the famous Pearl River Cruise when you stay in Guangzhou.....more
Guangzhou to Hong Kong Express Train
It is convenient for the passengers from Guangzhou to Hong Kong or from Hong Kong to Guangzhou by train, it takes two hours. Click here to check the details information about the train go through between two cities.
Must see
Tours in Guangzhou:
Chimelong Paradise Park Chime International Circus
Chimelong Water Park Xiangjiang Safari Park
One day Guangzhou tour One day Foshan tour One day Zhaoqing tour