Shopping in Beihai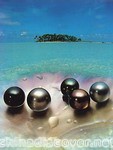 Beihai offers you numerous local specialties, especially products of the Beibu Gulf. " Southern Pearls " ( Nan zhu ), a unique product of Beihai used to be the spectacular tribute to the court in ancient China, is one of the top grade product among the pearl family. In Beihai there is an area of 33 acres of pearl cultivation.

These unique saltwater pearls are used to make various jewels including necklaces, rings, brooches and earrings, as well as many beautiful pearl decorations. Pearl powder is a Chinese traditional medicine with a secret formula to help maintain youth and beauty.

There are numerous shops in Beihai specializing in pearl jewelry, gifts and pearl powder. The newly-opened South Pearl Palace ( Nanzhu Gong ) on Chating Lu is a good place to go shopping. Other products are artistic shell carvings and horn carvings.

There are several big shopping centers along the Beibuwan Zhong Lu , of which the Qidong Shopping Center may be the best place to select some souvenirs.

The Detian Waterfall in the Guangxi Zhuang Autonomous Region, it lies in a subtropical area along the Sino-Vietnamese border, and is the second largest transnational waterfall in the world.