Hong Kong to Beijing train

Want to book Hong Kong - Beijing Train Ticket?

Please E-mail us:

booking@chinatourguide.com
Hong Kong Hung Hom Station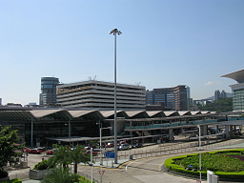 Hung Hom Station, formerly known as Kowloon Station is a station on the East Rail Line and West Rail Line in Hong Kong. It is located in Yau Tsim Mong District, Kowloon, next to the Cross Harbour Tunnel.
Hung Hom serves as the southern terminus of both East Rail Line and West Rail Line, as well as the terminus of cross-border services with destinations to major cities in China including Beijing, Shanghai, Guangzhou, as well as Zhaoqing, Foshan, Dongguan in Guangdong. Transfers between the East Rail Line and West Rail Line are provided through cross-platform interchanges.
Beijing West Railway Station

It is located in western Beijing's Xuanwu District. Opened in early 1996 after three years of construction, it is one of the largest railway stations in Asia. It was expanded in 2000 and is now able to handle 300,000 passengers per day and also had a vast amount parking lots added.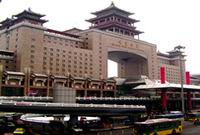 Beijing West Station handles traffic from south and west China. The well-known Jingjiu Railway, or Beijing-Kowloon Railway line, begins from this railway station. Since the opening of the Qingzang railway in 2006, it is possible to catch a direct train to Lhasa from this station.
There is not yet a subway station that connects to this station but it is planned for the future. An underground link line that will be built to connect it with the Beijing Railway Station has been planned.
It is convenient, safe and cheap to use the long-distance trains in China. Train stations in many cities are fairly centrally located or at least conveniently placed next to a public transit center. Once you learn a few things about the trains and get used to them you should find them to be a fine way to get around China.