Fenghuang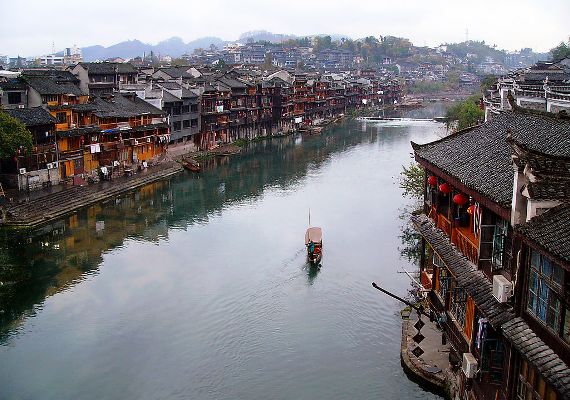 Fenghuang is located at the southwestern part of Hunan. In the history, it was the remote frontier and border between ethnics of Ethic and Han.
In different dynasties, the Chinese central government set up their defence forces and local administrations in Fenghuang.

Fenghuang was built in the reign of Emperor Kangxi of Qing Dynasty.
This small town boasts the Pearl of West Hunan Province. In fairy story, there used to be a sacred bird named Phoenix in old India. Phoenix set itself on fire when it was 500 years old. But later, it was reborn from fire and since then it was immortal. This bird in China called Fenghuang is the King of birds.
On the southwest side of Fenghuan ancient town, there is a mountain looked like a flying phoenix. So this ancient town was called Fenghuang. As a famous ancient town for its history and culture in China, The attraction of Fenghuang is organically comprised of the natural landscape and the humanistic environment.
Located in the west side of Hunan province, Fenghuang is a hidden gem for a long time. Thanks to human's ignorance and its obscurity, it is well preserved and the original appearance and environment are both well protected. The original and ecological environment of culture and nature is the most attractive aspect to draw the attention and preference of so many people.

Traditionally, Fenghuang is the residential place of Miao Nationality and Tujia Nationality, and in 2001, Fenghuang was specially approved to be the national-level famous town for its culture and history.
Fenghuang has a long history. During the period of Spring and Autumn, this place has been administrated. Fenghuang since its establishment has had more than 300 years of history.
Nowadays, the east gate and the town tower of north gate are both well preserved. In town, the greenstone-paved streets, riverside wood-made building or Diaojiaolou(wooden house projecting over the water), Chaoyang Palace, Heavenly-King Temple, Dacheng Hall and Longevity Palace are all the attractions of Fenghuang.
Fenghuang is divided into new district and old district. The old district is located near to mountains and river.
The Tuo River goes across the old district. The town wall built in red sandstone stands on the riverside.
The town tower of the old town was built in Qing Dynasty, and it still looks so towering, although the iron-made gate has been rusted seriously. There is a narrow wooden bridge crossing the river under the north town gate. Two men cross the river oppositely have to walk sideways.