Taiyuan Tourism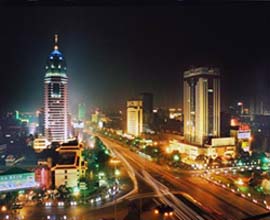 Taiyuan (Chinese:

太原

, Pinyin:

taiyuan

)

3,413,800

6,956 square km (2,685.7 sq mile)

Taiyuan is an industrial cities, it is the capital of Shanxi Province.
Overview
As the capital of Shanxi province, Taiyuan once was a strategic center in ancient time, and has over 2,000 years history. vast expanse of relics, old memories merging into fragrant Fen White wine, give Taiyuan the colorful expression.
Know More
Taiyuan was was originally the site of Jinyang, a strategic center for the ancient state of Zhao in 500 B.C, named Jinyang. It was renamed Taiyuan in the Qin Dynasty. In the Later Han period, Taiyuan became the capital of Bingzhou province. During the Tang Dynasty, Taiyuan was a secondary capital of China and a cultural center. The city had been deliberately flooded several times in 453 BC, AD 969, and was also destroyed by war in AD 1125.
The old city was at Taiyuanzhen, a few miles east of the modern city. After the Song conquest in 960, Emperor Taizong of Song ordered to destroy it, and a new city was set up on the banks of the Fen River in 982. In 1059 the city became a superior prefecture, later the administrative capital of Hedong (northern Shanxi) in 1107. It retained this function, with various changes in its name and status, down to the end of the Mongol period (1368). At the beginning of the Ming dynasty (1368–1644), it was renamed Taiyuan Fu and retained this name until 1912. During Ming Dynasty, the city wall was reconstructed in AD 1568. Under the Ming dynasty and in the Qing period (1644–1911), it was capital of Shanxi. Under the republic (established in 1911), its name was changed to Yangqu, a name it retained until 1947.
After 1911, Shanxi remained under control by warlord Yen Hsi-shan who retained control of the area from 1913 to 1948. Consequently flourished as the center of his comparatively progressive province and experienced extensive industrial development, Taiyuan was also linked by rail both to the far southwest of Shanxi and to Datong in the north.
Since 1949, Taiyuan has developed a large industrial base with heavy industry (notably iron and steel) of prime importance. With cement producing, Taiyuan is also an engineering center, and has a large chemical-industrial complex. It is also a center of education and research, particularly in technology and applied science.
Must see
Shuanglin Temple and Zhengguo Temple
Shuanglin Temple, a musty monastery 7km south of Pingyao, has traditional paintings and some 2,000 terracotta figurines dating back to the Song and yuan dynasties. Other temples include Zhengguo Temple 15km north of Pingyao, which features Buddha figures and Dacheng Hall, located southeast of Pingyao. It's the only Confucian temple built during the Song dynasty and has an 800-year history. They both are the World Cultural Heritage.
Jin Ancestral Temple has a long history, which can be traced back to the Western Zhou Dynasty (11th century BC to 711 BC), when King Cheng made his younger brother Yu a leader of one of his states. Yu was an intelligent leader who devoted all his energies to making the state prosperous, so his descendants built a temple for him after his death, in order to honor his achievement.