Guangzhou Metro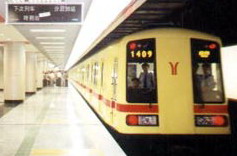 Guangzhou's subway system boasts of convenience, fast and cheap. It is the most convenience way to get through the city's heavey trafic.
It is operated by Guangzhou Metro Corporation, the construction began in 1993 and the first line opened in 1997. At present, there are 5 lines in operation with 80 stations and over 150 kilomters of tracks.
Tickets and fares
Tickets for single journey can be bought at a kiosk at every station or at the automatic ticket vending machines. Fares are based on the distance to be travelled that range form 2 RMB to 12 RMB. The ticket itself is a green contactless (RF) plastic token. The user has to tap it on the sensor on the ticket barrier when entering and to insert it into a slot at the exit gate and the token is reclaimed. The ticket is valid for three hours from the moment it is used, which means you have to finish your journey within three hours.
Five lines of Guangzhou Metro
Line 1
Line one opened in 1999. It runs from Xilang to Guangzhou East Railway Station, with a total length of 18.5 kilometers. Apart from Kengkou and Xilang, all stations in Line 1 are underground.
Line 2
Line 2 opened in 2003, it runs from Sanyuanli to Wanshengwei, interchanging with Line 1 at Gongyuanqian. The total length of line two is 18.3 kilometers and all the stations are underground.
Line 3
Line 3 consists of 23 stations and with a total length of 32.4 kilometers, it will be extended to Guangzhou Baiyun International Airport after several years. Line 3 connecting Guangzhou East Railway Station and Tianhe Coach Terminal to Panyu Square. All the stations are underground.
Line 4

The total length of line four is 70 kilometers that operated in 2007, it will eventually run from the Guangzhou Science Town to Nansha.
Line 5
Line 5 will start from the new Guangzhou Baiyun International Airport and end at the Guangzhou East Railway Station, with a total length of 35.3 km.
Guangzhou to Hong Kong Express Train
It is convenient for the passengers from Guangzhou to Hong Kong or from Hong Kong to Guangzhou by train, it takes two hours. Click here to check the details information about the train go through between two cities.
More short distance tours:
Chimelong Paradise Park Chime International Circus
Chimelong Water Park Xiangjiang Safari Park
One day Guangzhou tour One day Foshan tour One day Zhaoqing tour