Yak Meadow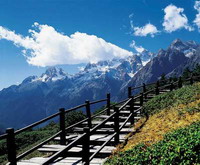 A cable car service is available to the summit of the Yak Meadow, one of 13 peaks of the Jade Dragon Snow Mountain. Highly recommend you to walk around 1 hour on the meadow in Spring time.
The Yak Meadow is a large area of meadow on one of the mountains of Jade Dragon Snow Mountain, it got its name because the local people like to pasture their Yak here.
The landscape rises and falls on the meadow. In spring and summer, Yaks with black and white skin wander in grass and all kinds of flowers. In autumn and winter, the mild edge of th meadow becoms a sharp contrast with the peaks of the snow mountain.
Must see
High latitude and wide meadow give you a board view. Looking down at Ganhaizi, Yunshanping and continuous mountains, you will find that the snow mountain is so close to you. Clouds circle around the waist of mountain. Cool wind gently blows on your face. All the things here are so peaceful and beautiful.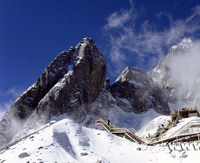 Service of a Cable car transfer to the summit is available. Highly recommend you to leave the town of Dayan earlier in the morning, to take the cable car. Usually it is very crowded from 9h00 in the morning. So leave the town at 7h00, and drive one hour to the Yak Meadow.
When you arrive the summit, have a simple Tibetan style breakfast at the moutain top! Hot Yak milk is something that can not be missed, at this moment, this place.
Follow the trekking trail and walk around the forest. Yulong Snow Mountain is the spititual prop of the Naxi. The God of Jade Dragon, Sanduo, is the greatest protector of the Naxi people.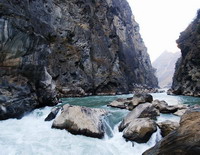 The Tiger Leaping Gorge is divided into three sections: Upper, Middle and Lower.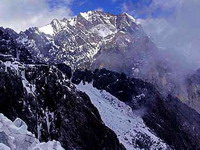 The major attraction in the Jade Dragon Snow Mountain is the Glacier Park, where a cable car can take you to the summit.