Yunnan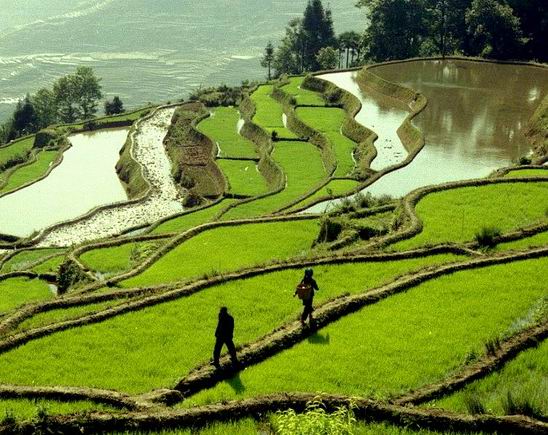 Yunnan (Chinese: 云南, Pinyin:yunnan)

44,830,000

394,100 square km (152,200 square mile)

Ethnic minorities in Yunnan account for about 34 percent of its total population. Major ethnic groups include Yi, Bai, Hani, Zhuang, Dai and Miao.
In general, as most parts of Yunnan are about 2,000 meters above sea level, the weather is favourable throughout the year, cool in summer and war in winter, which makes Yunnan a favourable resort all the year round.
Yunnan climate
Yunnan has a diverse climate , embracing temperate , tropical and rigid zones in one province. Kunming , the capital city, is marked by a pleasant spring weather which prevails year round while it is also notable for the abrupt change into winter weather caused by rain.
At the same time, there are various types of climate in Yunnan. From Xishuangbanna in the south of Yunnan to the Diqing Plateau in the northwest, one can experience the tropical, temperate and frigid climate, It is very convenient for us to enjoy different scenes since the direct distance from Xishuangbanna to Diqing is no more than 1,000 kilometers.
One typical example is Kunming , the provincial capital. As a poem goes, the spring lasts the entire round and the flowers bloom in all seasons. No wonder kunming is known to visitors from home and abroad as the Spring City .
Dali's climate is somewhat similar to that of Kunming. Lijiang has a rather cold climate whereas Xishuangbanna is rather hot for most of the year.
Located in the low latitudes.
The best time to visit Yunnan
The best time to travel to Yunnan is April to October, when the trees and flowers of this garden city are green and in full bloom.
Yunnan weather record
| Month | Avg. High | Avg. Low | Avg. Precip |
| --- | --- | --- | --- |
| January | 15.0° C | 2.0° C | 1.27 cm |
| February | 17.0° C | 3.0° C | 1.27 cm |
| March | 20.0° C | 6.0° C | 1.52 cm |
| April | 24.0° C | 9.0° C | 2.79 cm |
| May | 25.0° C | 14.0° C | 9.14 cm |
| June | 24.0° C | 16.0° C | 17.27 cm |
| July | 24.0° C | 17.0° C | 20.57 cm |
| August | 24.0° C | 16.0° C | 20.57 cm |
| September | 23.0° C | 14.0° C | 12.19 cm |
| October | 20.0° C | 12.0° C | 8.89 cm |
| November | 17.0° C | 7.0° C | 4.06 cm |
| December | 15.0° C | 3.0° C | 1.27 cm |
Yunnan weather forecast