Stone Forest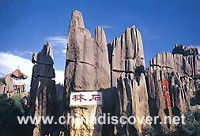 The Stone Forest Scenic Area is located in Shilin County, 89 kilometers from Kunming. The area, covering 350 square kilometers, is the highest karst terrain in the world and a national scenic area in China. In the scenic area one can see stone forest, known as "No. 1 wonder under heaven." The Sani people, a branch of the Yi ethnic group, live in the area.

Unique natural sights and Sani folklore are characteristics of the Stone Forest Scenic Area. Tourists can visit Sani villages, buy folk embroidery handicrafts of the Sani people, and watch folk dances in the evening. Torch Festival of the Yi falls on the 24th day of the sixth lunar month.

The quintessential karst landscape leaves every tourist lost in wonder. as you wander though the Stone Forest, you will be surrounded by the rising tone peaks, layer after layer of green hills, and the wide -spread stone peaks of the orest.

What a strange stone world this is! The scenery of " Figure of Ashima ", " Shi Ba Xiang Song " ( originated from a Chinese love story " Liang Shanbo and Zhu Yingtai " ) and " Lotus peak "greatly astonish visitors; the scenic spots " One Piece of Thread Sky " , " Close Call ", and " Sword Peak Pond " are all

miraculous. You will be astonished by the unique peaks and strange caves, by the Flying-Down Mountain Spring, and by Plateau lake. All these wonders combine to present you with a picture of astounding natural beauty.

In addition, to the parks natural beauty there are also a number of other cultural attractions which will greatly enhance the enjoyment of the trip as well as increasing your knowledge of the regions rich heritage. Some of the main attractions include: the colorful ethnic cultures and ancient folklore of the Stone Forest, the amazing legends of " Ashima ", the " Torchlight Festival " of the Sani people on June 24 of each year, and of course the warm and spirited Yi nationality dance " Axi Dance Under Moonlight " .

Western Hill - The forest reserve on the west bank of the Dianchi lake consists of the Huating, Taihan mountains, which extend for more than 40 kilometres.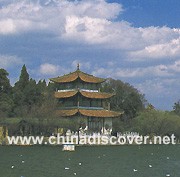 Dianchi, also called Kunming Lake, is located southwest of downtown Kunming. It is a freshwater fault lake at an altitude of 1,886.5 meters above sea level.