Kunming Tourism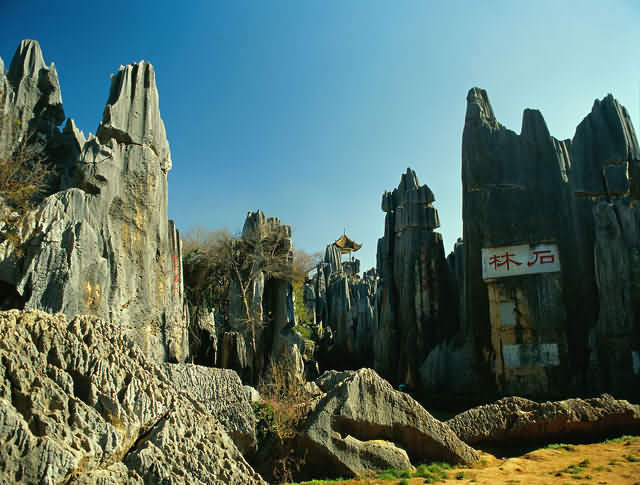 Kunming (Chinese: 昆明, Pinyin:Kūnmíng)

Municipality 6,800,000 Urban 3,200,000

located at 25°04′N 102°41′E

kunming is known to visitors from home and abroad as the Spring City. The most famous attracion in Kunming is the Stone Forest.
Kunming is a city to be shared -- its sunshine, blue skies, fragrant flowers, leisure pursuits, relaxed ambience, and business opportunities are there for everyone. The Kunming inhabitants are tolerant and easygoing. They are happy to let outsiders take up the many available local business opportunities. Vegetable growers from Sichuan and Guizhou provinces are predominant in Kunming's vegetable markets, but the local people are quite happy that it should be so. As a vegetable or fruit vendor from Sichuan can rapidly make enough money to buy a house and settle in Kunming, this laissez faire attitude is warmly appreciated. The level of tolerance on the part of the local people makes Kunming a city of migrants, and one acceptant of unconventionality.

The Kunming people are content with their lives, and are not of a competitive nature. The only time they may express discontent is on the rare occasion when bad weather occurs, reminding them that not all places have Kunming's four seasons of spring. The tempo of life in Kunming is leisurely, often giving outsiders the impression that the Kunming people are lazy, and

wasteful of opportunity.

Visitors to Kunming might initially gain a few false impressions. The custom most often misunderstood, and that may make Kunming inhabitants appear stingy, is that of buying less than a pound of vegetables at a time, as compared with the bulk buying intended to last several months, undertaken by a family from the north. The reason for this is simple -- fresh vegetables are available all year round in Kunming. The same also applies to fresh flowers. Flower growers in Kunming most like the autumn and winter seasons, as this is when no flowers grow in the majority of other cities in China. They consequently wholesale large quantities of flowers to big cities in other provinces, and business is very profitable. In spring and summer, on the other hand, flower prices are very low. At the Shangyi Street Flower Wholesale Market it is possible to buy a large bunch of flowers for just ten yuan, which provides the chance to give beautiful presents to friends and relatives living in other provinces without breaking the bank.

On meeting a man from Hubei Province who does business in Kunming, I asked him his impressions. His answer was that he finds Kunming people to be honest and sincere, easy to get along with, and welcoming to outsiders. He has bought a house in Kunming and plans to settle there. Kunming people live life at an easy pace; they are as temperate as the Kunming climate itself, with its mean temperature of 20 degrees Centigrade. Kunming dwellers are content to share whatever they have with whomever.

Another mistaken impression some have of Kunming is that peacocks and elephants stroll along its streets. There are indeed peacocks in the town square that, having become accustomed to it, have made it their home, just as other cities have pigeons resident in their squares. Since the 1980s, from early November to March every year tens of thousands of Siberian red-billed seagulls have come to winter in Kunming's warm and welcoming climate. In spring, all flowers, such as the oriental cherry on Yuantong Mountain, plum blossoms at the Black Dragon Pool, azaleas, magnolias and Chinese flowering quince at Tanhua Temple, tulips at Cuihu Lake, and orchids in Xihua Garden, are in full bloom. Beholding this bright welter, and inhaling its

combination of fragrances is an intoxicating experience.

The night market is the liveliest spot in Kunming, and is where the city's more artistic and eccentric elements gather. China's most forward looking and avant-garde works of art may be viewed at the Shanghe Guildhall on Houxin Street, and in the converted boiler room which is now the Chuangku Bar -- built on the site of a disused factory. In the teahouses and bars around Cuihu Lake may be observed a fusion of tradition and modernity.

Kunming is a city with a history of just 600 years. A century ago, a Frenchman came here and used his camera to record its folklore and customs. Few of the older streets remain today, and those that do are the sole remnants of old traditions. Some restaurants specializing in Yunnan cuisine, such as the Jinbichun Restaurant near Jinma Biji Square, and the "South Railway Station 1910" Restaurant on Houxin Street, do a brisk trade. Many residents of other provinces have heard of Kunming's Guoqiao Mixian (rice-flour noodles) and Qiguo Ji (Chicken in Casserole), but few realize how delicious are its shanmao wild herbs, edible flowers, and wild mushrooms. Upon the mention of dishes such as ganba mushrooms, niugan mushrooms, and Xuanwei ham, local gourmets visibly salivate. There are those who say that Kunming cuisine has no distinct features, not being particularly spicy or sour, which is perhaps why it is enjoyed by such a wide scope of nationalities. Kunming cuisine does, however, have its characteristics, but only those who settle here can learn to savor its freshness and lightness.

The tempo of life in Kunming is like that of a film montage - diverse but advancing. It is therefore a good place to live -- one where fortunes can be made in an atmosphere of leisure and contentment.

Kunming's lifestyle has captured the hearts of those in pursuit of such a life. Kunming is a city to be shared.