Yunnan Festivals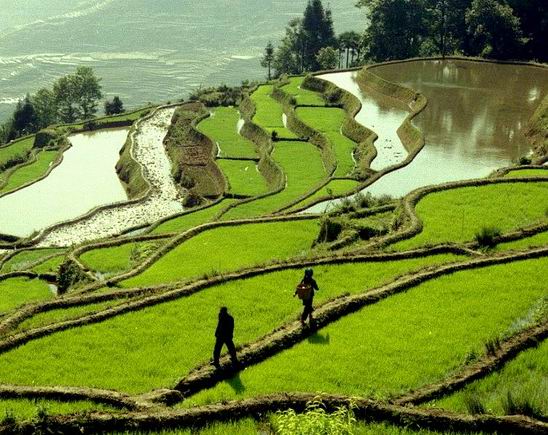 Yunnan (Chinese: 云南, Pinyin:yunnan)

44,830,000

394,100 square km (152,200 square mile)

Ethnic minorities in Yunnan account for about 34 percent of its total population. Major ethnic groups include Yi, Bai, Hani, Zhuang, Dai and Miao.
The famous festivals of Yunnan ethnic minorities are the Torch Festival of the Yi, the Third Month Fair of the Bai, the Sanduo Festival of the Naxi, the MunaoZongge Festival of the Jingpo and the SwordPole Festival of the Lisu.
Huashan (Flower Mountain) Festival
Ethnic group
: Miao
Region
: Mengzie Pingbian
Lunar date
: 3rd day of the 1st month
Activities
: Male and female singing in antiphonal style, Lusheng dance, pole-climbing
Munao Zongge Festival
Ethnic group
: Jingpo
Region
: Longchuan Mangshi
Lunar date
: 15th – 16th day of the 1st month
Activities
: Singing, dancing, wine drinking, festive greetings
Sanduo Festival
Ethnic group
: Naxi
Region
: Lijiang
Lunar date
: 8th day of the 2nd month
Activities
: Lili dancing, horse racing, picnics
Flower-picking Festival
Ethnic group
: Yi, Lahu
Region
: Dayao Shuangjiang
Lunar date
: 8th day of the 2nd month
Activities
: Picking flowers, dancing
Daogan Festival
Ethnic group
: Lisu
Region
: Tengchong Liuku
Lunar date
: 8th – 9th day of the 2nd month
Activities
: Crossing the sea of fire, climbing the knife ladder, antiphonal singing
Water Splashing Festival
Ethnic group
: Dai
Region
: Xishuangbanna Dehong
Lunar date
: End of the 6th month to beginning of the 7th month
(according to the Dai calendar)
Activities
: Dragon boat races, splashing water on each other, singing and dancing, flying Kong Ming lanterns, tossing embroidered parcels into the air
Third Month Fair
Ethnic group
: Bai
Region
: Dali
Lunar date
: 15th – 21st day of the 3rd month
Activities
: Large-scale commodity fairs and an occasion for cultural exchange
Surrounding Three Spirits
Ethnic group
: Bai
Region
: Dali
Lunar date
: 23rd – 25th day of the 4th month
Activities
: Formerly a religious activity for praying for a good harvest; later an occasion for an outing in the countryside
Panwang Festival
Ethnic group
: Yao
Region
: Mengla, Hekou
Lunar date
: 29th day of the 5th month
Activities
: Worshipping ancestors, singing and dancing
Torch Festival
Ethnic group
: Yi, Bai
Region
: Stone Forest Chuxiong, Dali
Lunar date
: 24th day of the 6th month
Activities
: Lighting torches, face-painting, fireworks, bull-fighting