Yunnan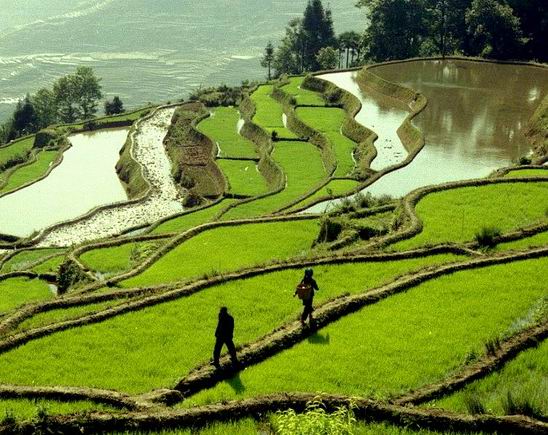 Yunnan (Chinese: 云南, Pinyin:yunnan)

44,830,000

394,100 square km (152,200 square mile)

Ethnic minorities in Yunnan account for about 34 percent of its total population. Major ethnic groups include Yi, Bai, Hani, Zhuang, Dai and Miao.
Yunnan food is a "crossroads" featuring dishes from all over Yunnan. The feature of Yunnan food is a perfect blend of sour and spicy flavors, made from the minority's century-old traditional recipes.
With the high humidity and mild temperatures, there is an abundance of fruits and vegetables all year round easily available throughout the city and often used as the staple for local delicacies. The several hundred types of edible mushrooms are used as side dishes, seasonings, main ingredients, and meat substitutes.
Guo Qiao Rice Noodles
The most famous of all Yunnan food is Guo Qiao rice noodles (literally "Crossing-the-Bridge Rice Noodles "). Rice noodles are made by soaking, steaming and grinding.
The process for cooking and eating these rice noodles is quite special.
First, make soup with chicken, ham, and bones; ladle the soup in a big bowl, and put some chick fat on the surface.
Then heat the fresh meat slices, chicken slices, hams, pig liver slices, fish slices, bean curd, and pea sprouts.
Finally, scald the rice noodles prepared in the hot soup and they are ready to eat. Most tables will have plenty of sauces available from which you can pick your favorite kind to add for even more flavor.
Steaming-Pot Chicken
The secret of this famous local dish is the unique design of Yunnan 's clay pot: the pot has a shape of water chestnut with a hollow central tube that is the same height of the pot. After chopped chicken, ginger, salt, and other ingredients are added in; this pot is placed in a larger pot filled with boiling water. Then the steam will come out from the central tube to warm the soup in the first pot. In this way, the chicken will be very tender and cooked without damaging its original flavor.
Braised Jizong in Soy Sauce
One of the most prized mushrooms in Yunnan, jizong is popular because of its chicken-like taste. The following steps are used to make it: Wash it thoroughly; dry by airing; cut it into pieces. Next chop chili and tenderloin pieces. Marinate the tenderloin and Jizong pieces in egg white, starch and salt mixture; then fry in hot oil. Finally, braise the Jizong and tenderloin pieces with garlic, ginger and shallot. Drizzle sesame oil on a plate, place braised pieces on oil.
Yunnan Bittern Duck
This is a top choice among tourists. Fresh duck from Dianshi Lake is served in a thick golden sauce. Besides its great taste, it is said to be very healthy.
Xuanwei Ham
Produced in Xuanwei County in northeast Yunnan, Yunnan Ham is reputed as one of the three most famous types of hams in China. It features small bones, thin skins, rich flesh, tender meat, fragrant aroma, and beautiful color. The preservatives allow it to be kept for a long time without spoiling.