Drum Mountain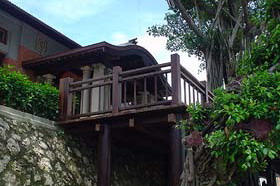 You can walk the hill comfortably in around 1hr 15 mins, it's 1900m high. Along the way, souvenir and food vendors litter the path. Be sure to buy drinks and snacks in the city before you head there as they're twice or three times the price on the hill.
There's a nice temple at the top, housing over 900 national relics, mainly scrolls written in the monk's blood. A superb vegetarian restaurant is next to the small pond with the statue of Ma Zhu, a locally revered goddess along the Fujian coast.
It an be a really tough climb if it's hot and humid (April - October, but mainly June-Sep), so if you're not fit either don't attempt it or take a mian bao che (small van) to the top. Haggle for the best price. There's also a chair lift, which takes you to the first crown after which there's a gentle 15 minute walk to the temple.
Gu Shan can get really crowded at the weekend at any time of year, so it's better to go during the week if you don't like crowds.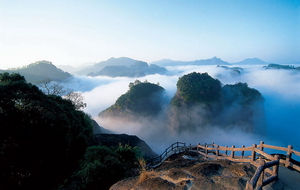 Wuyi Mountain is in northwestern Fujian Province. It encompasses a scenic retreat and a nature reserve and is imbued with a wealth of natural beauty and cultural interest.