Wuyi Mountain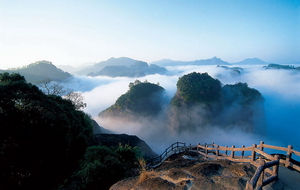 Many people have heard the name Wuyishan (Wuyi Mountain), but few really know anything about it. Those who first set eyes on the Wuyishan site might think its being classified merely as a mountain falls far short of doing it justice, as the river girding it is no less impressive than the mountain itself.
Wuyi Mountain is in northwestern Fujian Province, bordering Jiangxi Province. It encompasses a scenic retreat and a nature reserve and is imbued with a wealth of natural beauty and cultural interest. Its natural splendor has resulted in the city under whose jurisdiction the mountain falls also being named Wuyishan. This is the only city in Fujian Province to have been named after a mountain, and has been listed among the first group of excellent tourist cities in China.
Many Chinese emperors, particularly those of the Qing Dynasty, enjoyed making secret trips out from the Forbidden City to southern China. In contrast to the dry, vast and desolate wastes of northern China, the delightful scenery and mild climate of the south could induce and maintain high spirits. None of the emperors, however, visited the Wuyi Mountain wonderland. As this area was so distant from the imperial palace it was, in ancient times, considered barbarian and to be surrounded by dense miasma-exuding woods. It was therefore designated by the imperial court as suitable for exile only.
The literati, however, were fascinated by the splendor of the Wuyi Mountain scenery. Some went to live there, and others for a short stay. Zhu Xi, a famous Song philosopher of the rationalistic Confucian (or Neo-Confucianism) school, went to Wuyi Mountain at the age of 14 and stayed there, writing and teaching, until his death at the age of 71. Many poets also found inspiration at Wuyi Mountain. Today, remains of ancient towns and villages, and ancient, boat-shaped coffins suspended over cliffs, can still be seen around Wuyi Mountain. The remoteness, mystery, unique local customs, and rich tourism resources of the area have drawn countless visitors. In December 1999, Wuyi Mountain was officially designated a world natural and cultural heritage site.
Wuyi Mountain is divided into four reserves, according to its different physical features: the western bio-diversity area; the central Jiuqu (Nine-Bend) River ecological area; the eastern natural and cultural sights area; and the city remains of the Minyue Kindom at Chengcun. The western region of the mountain constitutes an important link in the drive for global bio-diversity preservation, while the eastern part displays the beauty of mountains and rivers, and, with its abundant scenic spots and historic and cultural sites, is testament to the harmony between nature and human civilization. The central area not only links the western and eastern parts, but also conserves the source of the Jiuqu River, and is therefore crucial for eco-environmental protection.