The Hakka Earthen Buildings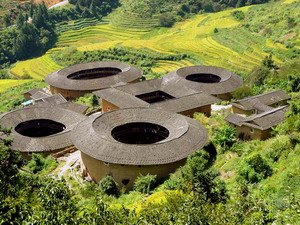 Introduction
Earth houses represent a vernacular architecture specific to Jiangxi, Fujian and Guangdong provinces following the flow of the Hakka people from central China to the South. The Hakka Tulou (earth buildings) of Fujian is found chiefly in Yongding, Nanjing and Hua'an. It is praised as a magnificent architectural work of village houses in the world for its long history, unique style, smart structure and magnificent scale.
There are round and square types of Fujian Hakka Tulou. The round ones (also known as "Round Stockade") are the example of Hakka village houses and they are mostly composed of two to three circles linking to one another from within.
As most Hakka resided in mountains, communal houses made of compacted earth were built to provide protection against bandits and wild animals. Tulou is a well-protected fortress in storey shape for the self-defense of Hakka people against enemies. In addition to the queer tricks of defense against the enemies, it has the functions of quakeproof, fire prevention, guarding against wild animals and good ventilation & lighting. The fantastic and spectacular Fujian Hakka Tulou demonstrates the great creativity of the working people of ancient China, and it has attracted more and more overseas visitors.
The older examples of this style of construction consist of interior buildings enclosed by huge peripheral ones holding hundreds of rooms and dwellers. With all the halls, storehouses, wells and bedrooms inside, the huge towerlike building functions almost as a small fortified city. Earthen houses are made of earth, stone, bamboo and wood, all readily available materials. After constructing the walls with rammed earth, branches, strips of wood and bamboo chips were laid in the wall as "bones" to reinforce it. The end result is a well lit, well-ventilated, windproof, quakeproof building that is warm in winter and cool in summer.
Fujian Hakka Tulou has fallen under the preparative list declared by China for "Directory of World Heritages". The buildings of Zhengcheng, Chengqi, Yijing and Er'yi are the typical representatives of Fujian Hakka Tulou.

Chengqi Hakka Tulou -- "the king of earth buildings"
Chengqi Hakka Tulou is situated at Gaobei Village, Gaotou Town, Yongding County, Longyan City. It is large in scale, unique in form, antique in style, and has a strong flavor of rural life. A vivid description of the Building goes like this, "Four-storey tall, in four circles, with four hundred rooms from cellar to rafter; round in round, circle in circle, with a long and fateful history of three hundred years".
Zhengcheng Hakka Tulou -- "the prince of earth buildings"
Built in 1912, Zhengcheng Building is situated at Hongkeng Village, Hukeng Town, Yongding County, Longyan City and covers an area of 5000 square meters. With post and lintel construction, it consists of two circles (the inside one and the outside one). There are 48 rooms on each floor of the 4-storey outside circle, which is designed according to the Eight Diagrams. There are six rooms and one staircase attached to each combination. And there is a firewall between every two combinations which are connected with each other through an arched door.
Yijing Hakka Tulou -- the largest square earth building
Built in 1851, Yijing Building is a square earth building situated at Shangyang Village, Gaopo Town, Yongding County, Longyan City. The outside wall is 136 meters wide from east to west, and 76 meters long from north to south, with an area of 10,336 square meters. The 5-storey main tower at the back of the Building is 17 meters high, and is the highest among the existing earth buildings in Yongding. With altogether 280 rooms, Yijing Building is the largest square earth buildings ever known.
Yanxiang Hakka Tulou
Built during the Qing Dynasty and located in Nanxi. It is referred to as Fengzhi Dafu after an ancestor was bestowed with the honorary title of "honest man". The interior has a luxurious layout and scholarly atmosphere, and the gate and fence were designed to imitate a dragon's head and body.
Tianluokeng Tulou in Nanjing Country
This remote tulou cluster is located in Shangban Village, Shuyang Town. It is composed primarily of four round and one rectangular earthen houses, although some less prominent houses are oval-shaped.