Gulangyu Island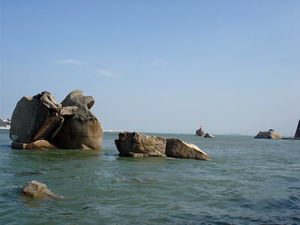 Gulangyu is a small island to the southwest of Xiamen, covering less than two square kilometers. The 600-meter-wide Egret River separates it from the main island, but a shuttle ferry is available every five minutes.
The name Gulang, "drum waves," describes the drum-like sound produced by waves hitting crevices in the southwestern reefs. Aside from electromobiles, Gulangyu is free from all motor vehicles and is serenely peaceful.
Architecture on the islet varies greatly in style, giving it the epithet "World Architecture Museum." As from the mid-1900s, a total of 14 countries established consulates here in Xiamen Overseas Chinese built villas, and businesspeople and missionaries followed.
The buildings are mostly from the colonial era, a remnant of the concession era in Xiamen. The oldest building I saw was built in 1896, with most being built in the 1920s and 30s. Some are nicely preserved, while others stand in various stages of disrepair. These are after all people's real homes and not a sanitized historical museum. Ficus microcarpa trees line the alley ways, giving the area an even older feel to it.
Good signage points you towards points of interest. There's the former Japanese consulate, the legendary Xiamen music school . . . Ask any Chinese person about this island and they will immediately start talking about the many great Chinese musicians who have hailed from here. The island is one of the must-dos of any visit to Xiamen.
As you walk around, you'll find the island's concert hall. Its modern architecture looks like an old idea of what the future would look like and is at odds with its surroundings. The nearby building with a gold cross isn't a church but rather a nursing home for the elderly.
Gulangyu is also known as "Piano Islet," as there are a total of 600 pianos on the island. Its 70 ancient pianos collected from various countries over the past century make the Piano Museum a magnet for visitors.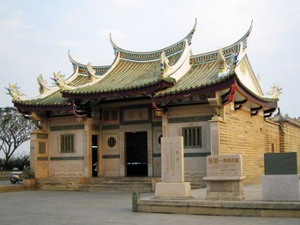 Jimei is a small town on the other side of the bank facing north Xiamen Island, 17 kilometers (about 11 miles) from the Xiamen city center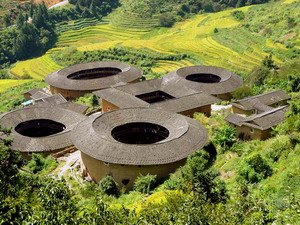 Fujian Hakka Tulou has fallen under the preparative list declared by China for "Directory of World Heritages". The buildings of Zhengcheng, Chengqi, Yijing