Xiamen Food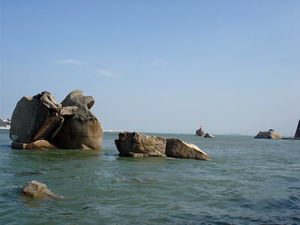 Xiamen (Chinese:厦门, Pinyin: Xiamen)

around 360,000

Xiamen is surrounded by ocean on three sides, and faces Taiwan Straight.

Xiamen, the second biggest city in Fujian Province, has a fitting nickname: "Garden on the Sea."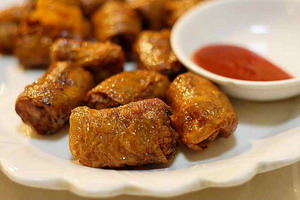 Xiamen cuisine represents that of the whole of Fujian. It is one of the eight most famous Chinese cooking styles. In past years, Xiamen cuisine has diversified, forming a unique flavor that can be described as simultaneously mild, tasty, light, crisp and slightly spicy. It is particularly famous for seafood, herbal dishes, Putuo vegetable dishes and local snacks.
Half Moon Sinking in the River
One of the most famous dishes has the poetic name "Half Moon Sinking in the River." When crescent-shaped dried mushrooms and fried gluten puff balls are placed into a round bowl, they look like a half moon and its reflection in the river.
Nanputuo vegetarium dishes
Nanputuo vegetarium dishes are deliciously fresh and succulent, but not oily. Other Xiamen snacks include meat dumplings, peanut soup, leek dumplings, rice porridge with sea crab, and taro. The most famous old eateries are Wu Zaitian on Datong Road and Huang Zehe on Zhongshan Road. Gulangyu meat pie is the most famous local snack and is not to be missed.
With its seaside location, mystical gardens and world-renowned cuisine, the "Garden of the Sea" is a must-see trip in China.
Thin Noodles Paste
It is made of high-quality flour, and it is white and fine in texture. Importance is attached to paste instead of mess, while being thick instead of oily. And it melts in the mouth! The refreshing flavor of the Thin Noodles Paste mainly comes from the soup brewed with shelled shrimp, oyster, sea razor shell, mussel, oyster meat, razor shell potage, or fish and meat dices of false salmon, eel and other marine products that are fresh and delicious. Seasoned with fry minced onion, pepper powder, and served with oil sticks, it tastes richer, more palatable and refreshing in flavor.
Satay Noodles
Firstly mix up satay sauce with bone soup, boil on roaring fire, then keep it in slow boiling state, add some refined salt and monosodium glutamate, hence the satay soup is ready for use. Select golden yellow glistening oil noodles of South Fujian and heat them with green vegetables in boiled water, then take them out and place them in a bowl, drizzle the thick satay soup while they are still hot. A bowl of rich-flavored satay noodles have almost come to completion, except the final seasoning to suit different taste.
Tong'an Wrapped Pork
To make the wrapped pork, choose a chunk of hock that weighs 1.5-2.5 kilos, seasoned with dried oyster, black mushroom, lotus seeds, shrimp etc, then drizzle some soy sauce, wrap and braise in a gauze. After taking it out of the pot, serve with its fragrance overflowing, its color golden yellow and the pork still quavering. Take a piece of it into your mouth, it tastes sweet and smooth, fat but not greasy, and it is extremely tasty and refreshing. It is really a local cuisine of typical Xiamen flavor.
Fujian Pie
It is a traditional food with a history of over a century. It can be divided into two kinds- sweet pie and salty pie. Sweet pie is baked with the stuffing of pea gravel added with lard and white sugar; while salty pie is made with the stuffing of diced meat added with lard and white sugar. It is carefully made with selected sound flour, lard and high-quality mung beans. The pie crust is crispy, fragrant and oily. And the crust of freshly made pie tastes icy cool, fresh and sweet.
Pork Paste with Mushroom
It is made of 12 raw materials and auxiliary products such as fresh pork, high-quality bean, black mushroom chili, onion bulbs, and garlic. Characterized by its golden yellow color, refined paste, rich aroma, being palatable and nutritious, it is a rare and prized canned appetite food.