Xiamen Nightlife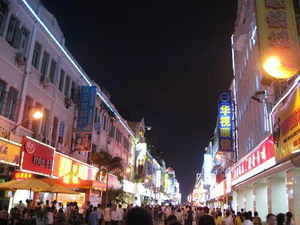 After the scheduled sightseeing during daytime, you can also appreciate the lovely night scenery and participate in the colorful nightlife activities in Xiamen. The colored and sparkling lights decorated on the tall buildings especially along the Zhongshan Road and Siming Road make Xiamen more vigorous and lively at night.
Virtually there are many places to go at night. Various squares in the city provide popular nightlife venues for local people to stroll, chat, and do exercise. At the Egret Alluvion City Park, there will be musical fountain show at 8:00pm every day and singing and dancing performances during weekends. In the Huoshaoyu Islet (or Flaming Islet) Scenic Area, barbecues will be held at night and water-screen films will be on show sometimes.
Bars & Pubs
Binlang Bar Street is a nightlife venue of great popularity especially among young people and foreign visitors. Plenty of bars and pubs with their distinct styles and features can be found here to provide you a wide range of choices. For instance, the Night-Shanghai Pub appears in an old fitment style of Shanghai in the 1920s; the Jurassic Bar creates a vivid scene of the Jurassic Period with dinosaurs; the Cleopatra Bar features performance of Egyptian style, etc. Various bars and pubs in this street or other parts of Xiamen will be good places for entertainment and relaxation.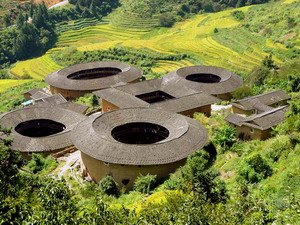 Fujian Hakka Tulou has fallen under the preparative list declared by China for "Directory of World Heritages". The buildings of Zhengcheng, Chengqi, Yijing