Hepu - Birth town of Pearl

In vivid contrast to the newness of Beihai City, the Hepu county seat attracts visitors with its antiquity. Located 27 kilometers from Beihai City proper, Hepu was already the terminus of the maritime Silk Road during the Western Han Dynasty (206B.C.-A.D.24). It was then a harbour right on the seashore, but the alluvium left by the Nanliu River pushed the land area further out to the sea and, as a result, Hepu retreated inland. One of the most valuable relics here is the Dashige (Pavilion of the Virtuous) in Yong'an Village of Shankou Town. This ancient structure was built during the Song Dynasty (907-1279) and reconstructed during Ming (1368-1644). Being the oldest and best-preserved wooden structure along China's coast, and the nearest to the sea is the reason why it is listed among the most important relics

under state protection.

Another worthwhile attraction is the unique Hui'ai Bridge. It was built in 1909, the first year of the reign of the last emperor of China with funds contributed by the merchants of Lianzhou Prefecture. The 26-metre long bridge has no piers and is supported entirely by two sets of wooden logs on either bank in the shape of and inverted V, a kind of structure rarely seen elsewhere, Amazingly, the 90-year-old bridge is in good shape and still in use.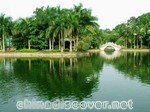 Tianci Lake is the central scenic area on Qingxiu Hill. On its southern bank is a long corridor leading to Longxiang Pagoda on the top of the hill.

Pass Kunlun is in the east of Nanning, it is a renowned old battlefield, It is a natural barrier of Nanning, a place contested by all strategists.