Mount Qingxiu in Nanning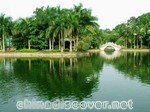 Scenic Area Standing 5 km. in the outskirts southeast of Nanning, is known for its grandeur and beauty as well as well as its evergreen pines. The White Cloud Temple built in the Song Dynasty, the Longxiang Pagoda built in the Ming Dynasty were destroyed due to the war. In 1985 the city government renovated Tianci Lake, Longxiang pagoda, Dongquan Spring, Phoenix Pagoda and other 20 scenic spots.

Tianci Lake is the central scenic area on Qingxiu Hill. On its southern bank is a long corridor leading to Longxiang Pagoda on the top of the hill. The pagoda is octagonal and has nine stories,53 meters high, with green bricks, rammed earth walls and blazed tiles, and a winding staircase of 207 steps within. It is the highest pagoda in Guangxi

Dongquan Spring was discovered by Dong Quance, assistant of the Ministry of Punishment. He named it Hunhun Spring, and built a pavilion beside it. Later, Xu pu, garrison commander of Zuojiang, who knew that Dong Quance loved this spring , changed its name into Dongquan Spring.

The Detian Waterfall in the Guangxi Zhuang Autonomous Region, it lies in a subtropical area along the Sino-Vietnamese border, and is the second largest transnational waterfall in the world.