Pingxiang

Pingxiang has been an important place of border defence since ancient times. Sprawling along the border is a long chain of undulating mountains, where many check points have been set up. Besides Friendship Pass, there are several other passes, including the Ping'er, Jiao'ai and You'ai passes, as well as defence walls and battlements. These passes not only have been installations of national defence and symbols of sovereignty, but also have been serving as trading stations.

Most of the battlements were installed for the purpose of defence against invasion by the French colonialist army during the Qing dynasty. The most

famous ones are those on Jinji (Golden Rooster) Mountain.

Golden Rooster Mountain on the western side of the Friendship Pass rises 511 meters above sea level, and is a commanding height in this area. There are sheer cliffs on every side of this strategically situated mountain. The three peaks of the mountain stand like the legs of a tripod, making the mountain easy to defend and difficult to attack.

After the Sino-French War, the garrison general of the South Pacification Pass had a battlement built on each of the three peaks and named them the Central, South and North pacification battlements. Today, while the ancient battlements are still there, the mountain serves as a modern frontier guard post, with radar antennae sweeping the sky day and night.

The Detian Waterfall in the Guangxi Zhuang Autonomous Region, it lies in a subtropical area along the Sino-Vietnamese border, and is the second largest transnational waterfall in the world.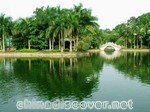 Tianci Lake is the central scenic area on Qingxiu Hill. On its southern bank is a long corridor leading to Longxiang Pagoda on the top of the hill.