Impression Liu Sanjie
Book Li River Cruise + Impression Liu Sanjie Package
Li River Cruise Private Tour + Impression Liu Sanjie + theatre/hotel transfers
You will have a private English speaking tour guide, and a 7-seat air conditioned van with driver.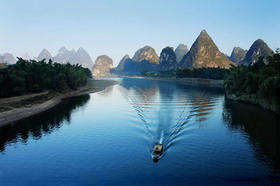 Pickup from the hotel in Guilin in the morning, leave the hotel at 08h30, drive 40 minute to Zhujiang Dock, your 4 hours Li River Cruise starts from here. A Chinese lunch served en route. At about 14h00, the ship arrives at Yangshuo.
Free time to walk around the old town of Yangshuo. Your tour guide will follow you get off the ship, and escort you to Regency Holiday Hotel. This is the meeting place to depart for Impression Liu Sanjie. The pickup time is 19h00. Please do not be late!
Then you will have free time to walk around bars, coffee shops and stores on West Street, this is the tour part of the town. In fact, the local part is also quite interesting, a place with lots of markets and small lanes, civilian old houses, highly recommend to visit. You might write down his/her mobile phone number in case you need any help.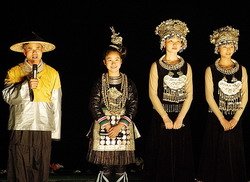 If you like to rent a bike for 2 hours biking to the countryside and rice paddies nearby, please ask your tour guide for an extra cost, please pay this optional program in cash to our tour guide.
Recommend you to take your dinner somewhere on the West Street before 18h30. Our tour guide and driver will meet you at Regency Holiday Hotel at 19h00.
After the show, you will be transferred to the hotel in Yangshuo, or in Guilin.
Notice:
The show is UNAVAILABLE from JAN 3 to FEB 1, 2014.
Pay by PayPal
Please click the "Add to Chart" button, you will visit the secured page of PayPal. Our PayPal Account is: HRC Worldwide Hotel & Travel Service Limited.
| | | | | |
| --- | --- | --- | --- | --- |
| Service item | Single | Twin | Triple | Group |
| Li River Cruise + Impression Liu Sanjie (C class ticket) + Yangshuo/Guilin transfer after the show | 198 | 139 | 116 | 104 |
                          Currency: USD
Ticket Category
Single ticket - book ticket for one person, the total cost is USD 198 + 4.4% transaction fee
Twin ticket - book tickets for two persons, the total cost is USD 278 + 4.4% transaction fee
Tripple ticket - book tickets for three persons, the total cost is USD 348 + 4.4% transaction fee
Group ticket - book tickets for four persons or more
If you can not pay sucessfully on PayPal
PayPal has restriction to use your credit card to pay on www.paypal.com. Some countries have been marked as high risk countries by PayPal.   When you travel in these countries, you will not be able to pay on PayPal.

When you failed to pay by your credit card on PayPal, change a payment method.

Pay by credit card
Please click the link of Chinabank Payment, you will pay RMB to a Chinese bank, and you can use Visa, JCB and MasterCard.  

Please notice the amount of payment is in RMB, and the exchange rate is: 1 USD = 6.0 RMB.
Step by step procedure
Step 1 - Pay online
You will visit the secure page of PayPal or CHINA BANK. Please follow the procedure to pay online. Then you will visit our THANK YOU page. Your booking will be submitted to China Discover.

Step 2 - Confirmation
We will check our bank account. One of our Travel Advisors will contact you to follow up every small details.
Step 3 - Work on details
Alternatively, our trip advisor may ask for more information so that he/she can design the best possible trip plan. He/she will work with you until your program is just what you want.
Hour by hour schedule
| | |
| --- | --- |
| Time | Service items |
| 08h20 | Pickup from your hotel and transfer 40 minute to Zhujiang Wharf |
| 09h30 | Li River Cruise with our tour guide, our driver drives to Yangshuo to meet you in the afternoon |
| 13h30 | Cruise ends in Yangshuo (free time for 3 hours) |
| 17h00 | Dinner by yourself |
| 18h00 | Pickup by our tour guide and driver at Yangshuo regency hotel, transfer to the theatre |
| 21h30 | Show finishs, transfer back to hotel by the same coach and the same tour guide |
| 23h00 | Back to your hotel in Guilin or in Yangshuo |
Notice:
If you stay overnight in Yangshuo today, please arrange wait up call at 07h00, take all your luggage to lobby and check out at the front desk before you have breakfast. A lots of people wait to check out at this time. Do not be late for our coach!
When you board your cruise ship at 09h30, our driver will take your big luggage to the hotel you stay in Yangshuo. The luggage will be taken care by hotel staff until you show up in the afternoon.
3 hours free time from 14h00 to 17h00
You might explore the old town of Yanghuo by yourself. Yangshuo is a place with her history echoes off the cobblestone streets and where the photo opportunities would exhaust even a professional photographer´s thumb. The old town doesn´t require any translation to enjoy its beauty. The best thing to do is just to wander around the old lanes and get lost.
Or you might ask our tour guide to escort a 2-hour bike tour to see the countryside. The most popular route is:
Bike tour from Yangshuo to Moon Hill The extra cost is US$ 21 per person
Read a blog article in 2008: Riding a bycle to Moon Hill
Upgrade a ticket class
If you like the above package service, and need to upgrade to higher class ticket, plase buy the above package frist.
You will receive an instant notice by PayPal via email. Then you can pay the ticket price difference at: www.chinadiscover.net/faq/payment.htm
Ticket Price Difference per person (Currency: USD)
| | | | | | |
| --- | --- | --- | --- | --- | --- |
| Class | C | B2 | B1 | A2 | A1 |
| Area | Yellow | Green | Green | Gray | Gray |
| Price | - | 5 | 18 | 41 | 70 |
Map of Impression Liu Sanjie