Yangshuo Tourism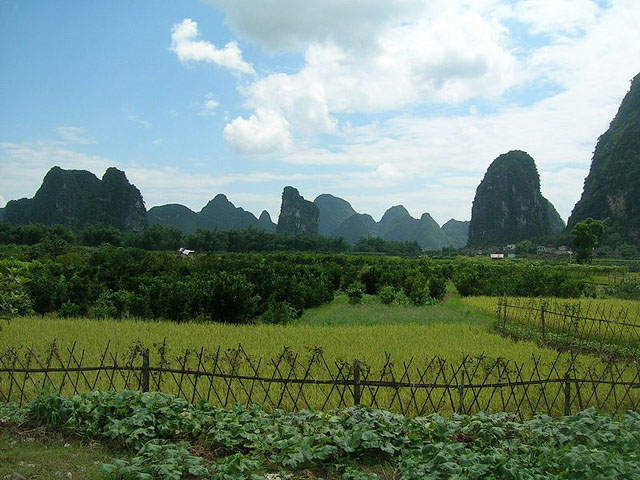 Yangshuo (Chinese: 阳朔, Pinyin:yangshuo)

Municipality 240,000

Situated at 25°16′14″N 110°17′31″E

Yangshuo is 63km south of Guilin, a township which is embraced by Li River and Yulong River on the outskirts, within the arms of the limestone peaks. Lots of outdoor activities like biking and trekking for a weekend holiday.
Know more
Just over an hour south Guilin, Yangshuo, with its natural scenery and laid back air, Yangshuo traveling can be a great escape from the gray and pollution of China'a big cities.

The town of Yangshuo is a backpacker's paradise. Quirky souvenir shops and essential services like internet cafes, telecom services, food guzzling corners and pharmacies abound. Yangshuo town has flourished so swiftly that it is practically unrecognized from the latest edition of whichever guidebook you own-new streets have sprouted up with shops offering all sorts of comfort foods, the main thoroughfare has been widened to accommodate the growing volume of traffic. Clusters of shops selling herbs, teas and daily provisions line the inner alleyways.

A lively buzz hums throughout the cobbled streets. Young and old gravitate towards the chill-out joints, especially along West Steet, a 2km stretch crammed with shops, pubs, cafes and hotels. Here's where flickering neon lights have replaced red lanterns and the air is rich with band music and banter.

Yangshuo's subtropical weather, characterized by temperate summers and winters, encourage the travel-weary to lounge by numerous street-front cafes, enjoy a banana pancake and sip an ice-cold beer or two.

This little county of some 300,000 inhabitants, comprised of various ethnic groups such as the Zhuang, Yao, Miao and Han, has blossomed since the Sui dynasty some 1,400 years ago. Glimpses of the rich cultural background can be seen in the many shops selling local products such as talcum, silk, huge wall fans, scrolls and exquisite pottery pieces.
Enriching the land are the pristine waters of the Jinbao and Li river, the latrer winding some 56km through Yangshuo, connecting it with Guilin. The river is central to Yangshuo's prosperity; river water is funneled to irrigate the lush fields. Most locals still work the land on the paddy fields and orchards punctuating Yangshuo-many peaks, though a growing number of locals are involved in the more profitable tourism industry.
Walking, biking, rafting are several ways to appreciate Yangshuo's charms. To beat the noonday heat, take a leaf from the village children frolicking in the clear river waters, often seen watching over a herd of buffaloes or wielding homemade fishing robs fashioned from bamboo.
Must See
There is plenty au naturel to see in Yangshuo; Karst peaks, plains and villages. Fortunately, Yangshuo's many pretty sights are incredibly well-connected. Rent a bike for a day from one of the many bicycle rental shops in Yangshuo and drink in the sights as you pedal.
A leisurely 30-minute ride from Yangshuo, and to the west of the highway, is Moon Hill, a limestone pinnacle with a moon-shaped hole square in the middle. There are stairs that lead from the bottom of Moon Hill to its windy, arched peak. The path gets narrower, rougher and more slippery as you near the peak, but the panoramic view is worth the sweat. On a clear, you get a rewarding 360-degree-view of karst topography and Jinbao River unfurling in the distant horizon.
Climbing enthusiasts will be thrilled with thousands of natural peaks to test their rock-climbiing skills. Climbing equipment is easily avaiable from Mountain Retreat, Lizard Lounge and karst Cate located in Yangshuo. Suggested peaks include Copper Door, Gold Cat Hill and Thumb Peak. Or try scaling slippery Green Lotus Hill.
Just a stone's throw away is a series of newly opened caves: Black Buddha Caves, Water Caves and Dragon Cave. The Water Caves have garnered rave reviews.The boat ride into the dark cave seems foreboding-the limestone canopy dips so low at certain points, passage between rock and water seems impossible, but somehow the master oarsman getts the crew through.
Famous for uts exquisite Ming dynasty architecture and centuries-old wood carvings, Xingping Village is also noteworthy for its superior fengshui. Ornamental eaves, elegant sloping roofs and ancient homes have long drawn scholars and dignitaries to walk the quaint back alleys. It's said that Sun Yat-sen visited the village when he was preparing to tackle the warlords of the north. In 1998, former American President Bill Clinton also popped by.
The scenery along the Li River, which snakes all the way from Guilin, will knock you senseless-it's got the Chinese ideal of water and mountains. Farmers, children and water buffaloes are visible along the many river bends playing, washing, collecting water or transporting their day's catch. Fishermen come in the feathered coat of cormorants, birds perching on their master's bamboo boats waiting for prey. The metal clasped around their neck stops them from swallowing their catch.
The enormous Banyan of a Thousand Years is 1,400 years old. Located just 7.5km south of Yangshuo, is a major tourist attraction. Measuring 17m high, 7.1m wide and spanning an area of over 1,000m2, the ancient tree lies on the western bank of the Jinbao River.