About Guilin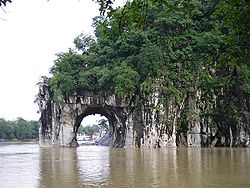 Guilin (Chinese: 桂林, Pinyin:Guìlín)

Municipality 1,340,000

Situated at 25°16′14″N 110°17′31″E

The scenery of Guilin has been called the finest under heaven. Situated in the northeast of Guangxi Zhuang Autonomous Region, Guilin City is South China's shining pearl, with verdant mountains, elegant waters , magnificent crags and fantastic caverns.
Overview
"Guilin's scenery is the most beautiful under heaven," so goes a Chinese saying describing the immortal beauty of Guangxi Zhuang Autonomous Region's Guilin. Boats float down the charming Li River as limestone karst mountains just from the ground like dragon's teeth.
While Guilin is far from the crush of other Chinese cities, it is becoming developed and is a major tourist destination in southern China..
Know more
With half its base sticking out into the Li River, Wave-Subduing Hill is located in the northeast of Guilin, near Solitary Beauty Peak. Folded Brocade Hill another well-known peak, offers cool relief with the aptly named Wind Cave. Reed Flute Cave has some of the best scenery in Guilin with stalactites and stalagmites casting distorted shadows that contort to the shifting multi-colored lights. To the south of town is Elephant Hill, Guilin's best known sight.

There is the Ling Canal in Xing'an Country 70km north of Guilin. Built from 219 to 214 B.C, it's considered one of China's three engineering marvels beside the Great Wall and the Dujiangyan irrigation system in Sichuan. The canal can be seen in the market town of Xing'an.


Must see
The charming Li river, one of the major attractions of the Guilin/Yangshuo region, has been described as "a green silk ribbon with hills like jade hairpins' and is ideal for exploration on a boat. The meandering 65km cruise lasts 5 hours and takes you past a /panorama of bamboo groves, sleepy villages, karst peaks and fisherman on rickety bamboo fafts fishing with cormorant birds.
The town of Yangshuo is a backpacker's paradise. A lively buzz hums throughout the cobbled streets. Young and old gravitate towards the chill-out joints, especially along West Steet, a 2km stretch crammed with shops, pubs, cafes and hotels. Here's where flickering neon lights have replaced red lanterns and the air is rich with band music and banter.
The Longsheng Rice Terraces are about 100 km (2 hours drive) from Guilin. The most popular are Ping An Rice Terrace and Jinkeng Rice Terrace. History of Longji Rice Terrace can be dating back to Yuan Dynasty, but most of the Rice Terrace were built during the Ming Dynasty, about 500 years ago.
Top activities in Guilin and Yangshuo

Li River Cruise

Longsheng rice terraces tour

Crown Cave and Gudong Waterfall tour

Reed Flute Cave tour

Li River Trekking tour

Impression Liu Sanjie

Yangshuo Biking tour