Rice Paddies Tour in Yangshuo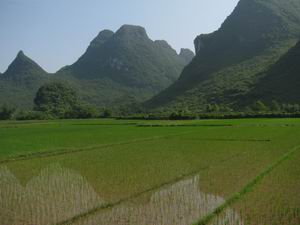 It is a good idea to explore the countryside of Yangshuo, a small town appreciated by backpackers. Magnificent panorama of the karstic hills rise out of the mist, they have inspired so many painters and poets in ancient history of China.
For people who can not ride a bide to see the beautiful rice paddies around Yangshuo area, you might hire a Golf Car.
The car can take 10 persons for a ride, the cost is RMB 250-300 per car, plus extra tipping RMB 100-150 to the driver.  You might ask other passengers you meet in Yangshuo to share the cost together.


What is a golf car rice paddies tour
In 1998, after the new parking place outside the town was completed, passengers needed to walk 40 minutes to find their tour coach after the Li River Cruise, the local people found the new way to offer transfer service by rickshaws from the dock to the parking lot.  Sometimes it was dangerous when the people rode quite fast in a sharp turn.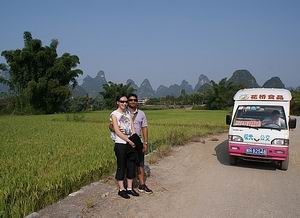 A kind of Golf Car was introduced to Yangshuo, in Chinese it is called 'DianPingChe', means 'Electric Power Engine Car'.  The local government started to use these Golf Car to open the bus service lines in the town and its surrounding areas.  This was the first time Yangshuo has its local bus system.
Some local travel agents, like Sinoway Travel, offer Golf Car Rice Paddie Tour daily, with a local tour guide speaking English, knows where to stop for a breathtaking picture, explains local plants in the countryside, tells local stories and customs, a good alternative choice to try.  These type of tour guides are raised in this areas, know every small trail, greet to everyone you meet on the road.
Stations of Golf Car
Station of XiJieKou
It is near the Yangshuo Regency Hotel, golf car goes from here to Impression Liu Sanjie theatre. The fare is RMB20 per car, it can take 10 passengers, you can pay RMB20 to the car driver, then collect RMB2 from other passengers who want to share the cost later.



Station of Li River Cruise
10 minute walk from the Yangshuo International Passengers Pier. You can take golf car from here to the Parking lot north outside downtown Yangshuo. Most of passengers take their coach back to Guilin after Li River Cruise. The ticket cost is RMB10 per person.



2 hours Rice Paddies Tour in Yangshuo


Rice paddie surrouned by peaks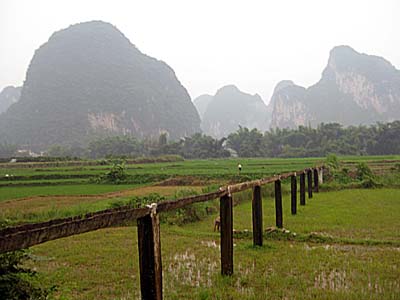 The landscape and the rice paddise are astoundingly beautiful. The rice paddies are also the result of backbreaking labour by generations, the lifeline of their current tenants. Be nice to local people who is working in the fields.
You might peer down into the the paddies, the water is clear and the mud lookes fine grained and smooth, marked only by occasional footprints. Small fish – or maybe tadpoles – darted frantically away from you, stirring up clouds of silt in the water.
In late June or early July, you can see people working in the fields, bare feet sunk deep in the mud, backs bent, replanting each seedlings by hand. Kids wave at me and call hello.
Pickup from hotels in Yangshuo
morning tour - from 9:00 to 11:00 am
afternoon tour - from 3:00 to 5:00 pm
(Need to start the tour earlier or later, please send a request to book@sinowaytravel.com)
100% refund guarantee
Thousands of our clients have paid through PayPal to book tickets in this way. If you have not received your tickets, we guarantee to send 100% refund to your paypal account.
How to book Rice Paddies Tour in Yangshuo
Step 1: Pay online
Pay by PayPal
Please click the "Add to Chart" button, you will visit the secured page of PayPal. Our PayPal Account is:
HRC Worldwide Hotel & Travel Service Limited.
Step 2: Confirmation Voucher
After you have paid sucessfully via PayPal, you will return automatically to our website. Please send us a note to inform us this booking to book@sinowaytravel.com. Please offer your mobile phone number for urgent contact in your email. We will send you a Confirmation Voucher.
Step 3: Hotel Pickup
Our tour guide will telehpne your hotel to double-check if you have checked in the hotel, and if there is any change for the class next day. In case you need any change, please phone us at: 86-20-22822049 immediately.
Important notice :
Need to change to another tour day or cancel the tour

We will issue 100% refund of your payment through PayPal for up to 60 days from the original day the deposit was sent. PayPal will not charge any transaction fee under this situation.
If you cancel the tickets after 60 days from the original day the payment was sent, we will inform you how much transaction fee has been deducted by PayPal, the rest of your payment will be transferred to your paypal account.
If you cancel the booking in 48 hours, no refund. 
Need to change to another tour day
Please inform us 48 hours prior of the tour day, we will check the availability and contact you as soon as possible.   If we can not change to the required day, we will recommend another day, or send the refund to your paypal account as required.