Impression Liu Sanjie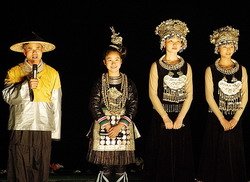 This is a major production with a cast of 500 singers, dancers, bamboo boats and cormorants bids. However, the stand out performer is definitely the background scenery. The lighting of the karst peaks is truly amazing and was our highlight.
Show time
In weekend and summer In weekday and winter
1st show: 19h40 to 20h50 20h00 to 21h10
2nd show: 21h20 to 22h30


Show Ticket
Ticket rate for C class (ordinary ticket): RMB 198/ USD 30 per person. The theatre issues tickets 4 hours prior of the show time every afternoon. Different ways to book tickets available:
Plan A: find a booking booth on the streets in Yangshuo by yourself
Plan B: book show ticket + hotel/theatre transfer package, from USD 58
Plan C: book show ticket + Li River Cruise Package (recommend), from USD 104
Map of Impression Liu Sanjie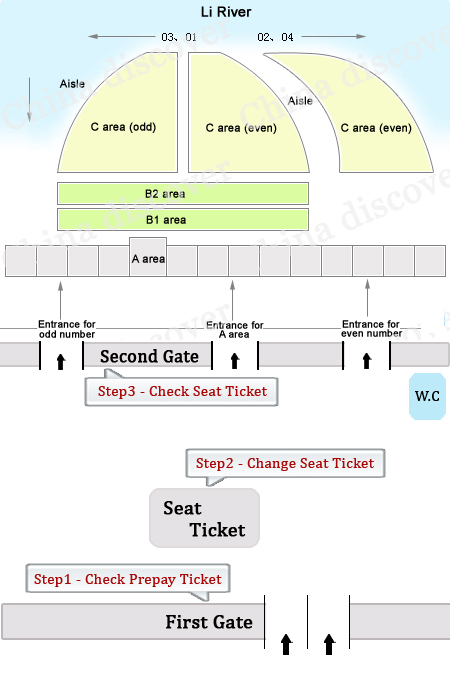 Book Impression Liu Sanjie tickets online
100% refund guarantee
Thousands of our clients have paid through PayPal to book tickets in this way. If you have not booked sucessfully, we guarantee to send 100% refund to your paypal account.
Li River Cruise + Impression Liu Sanjie + Transfers Package
You will have a private English speaking tour guide, and a 7-seat air conditioned van with driver.
Hour by hour schedule
| | |
| --- | --- |
| Time | Service items |
| 08h20 | Pickup from your hotel and transfer 40 minute to Zhujiang Wharf |
| 09h30 | Li River Cruise with our tour guide, our driver drives to Yangshuo to meet you in the afternoon |
| 13h30 | Cruise ends in Yangshuo (free time for 3 hours) |
| 17h00 | Dinner by yourself |
| 18h00 | Pickup by our tour guide and driver at Yangshuo regency hotel, transfer to the theatre |
| 21h30 | Show finishs, transfer back to hotel by the same coach and the same tour guide |
| 23h00 | Back to your hotel in Guilin or in Yangshuo |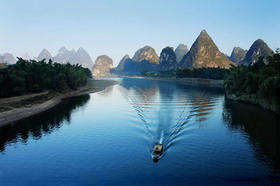 If you stay overnight in Yangshuo today, please arrange wait up call at 07h00, take all your luggage to lobby and check out at the front desk before you have breakfast. A lots of people wait to check out at this time. Do not be late for our coach!
When you board your cruise ship at 09h30, our driver will take your big luggage to the hotel you stay in Yangshuo. The luggage will be taken care by hotel staff until you show up in the afternoon.
Notice:

The show is UNAVAILABLE from JAN 3 to FEB 1, 2014.
Price per person
Service includes: Ticket + Guide + Sighseeing + Transfers + Lunch.
| | | | | |
| --- | --- | --- | --- | --- |
| Service item | Single | Twin | Triple | Group |
| Li River Cruise + Impression Liu Sanjie (C class ticket) + Yangshuo/Guilin transfer after the show | 198 | 139 | 116 | 104 |
               Currency: USD
Ticket Category
Single ticket - book ticket for one person, the total cost is USD 198 + 4.4% transaction fee
Twin ticket - book tickets for two persons, the total cost is USD 278 + 4.4% transaction fee
Tripple ticket - book tickets for three persons, the total cost is USD 348 + 4.4% transaction fee
Group ticket - book tickets for four persons or more
If you can not pay sucessfully on PayPal
PayPal has restriction to use your credit card to pay on www.paypal.com. Some countries have been marked as high risk countries by PayPal.   When you travel in these countries, you will not be able to pay on PayPal.

When you failed to pay by your credit card on PayPal, change a payment method.

Pay by credit card
Please click the link of Chinabank Payment, you will pay RMB to a Chinese bank, and you can use Visa, JCB and MasterCard.  

Please notice the amount of payment is in RMB, and the exchange rate is: 1 USD = 6.0 RMB.
Step by step procedure
Step 1 - Pay online
You will visit the secure page of PayPal or CHINA BANK. Please follow the procedure to pay online. Then you will visit our THANK YOU page. Your booking will be submitted to China Discover.

Step 2 - Confirmation
We will check our bank account. One of our Travel Advisors will contact you to follow up every small details.
Step 3 - Work on details
Alternatively, our trip advisor may ask for more information so that he/she can design the best possible trip plan. He/she will work with you until your program is just what you want.
Frequently Asked Questions

Q: Where is the Ticket office of Impression Liu Sanjie
A: The Ticket Office of Impression Liu Sanjie is in Yangshuo. All tickets are issued 4 hours prior of the show time
The Impression Liu Sanjie updated their booking policy in Sep 29, 2011: Tickets will be issued only 4 hours before the show day, so it is impossible for us to deliver the ticket to your hotel. Our office in Guilin will reserve ticket by telephone, and ask our tour guide to pickup the tickets from the booking office in Yangshuo at 3pm. You need to book our Li River Cruise + Impression Liu Sanjie Package.


Q: I stay my 1st night in Guilin, 2nd night in Yangshuo
A: Please book our Li River Cruise + Impression Liu Sanjie Package.
Q: I am already in Yangshuo, need a ticket tomorrow
A: Ask your hotel staffs for help.
Q: I am going sighteeing now in Yangshuo, how can I get my ticket for tonight
A: Ask your hotel staffs for help.. You should leave Yangshuo downtown to the theatre not late than 18h20.
Q: Need to cancel the ticket
A: No cancellation fee if you change or cancel the booking 72 hours prior of the show day. We will send the refund to your paypal account. PayPal charges for transaction fee sometimes.
If you cancel the booking in 72 hours, no refund.
Q: Need to change to another show day
A: Please inform us 72 hours prior of the show day, we will check the availability for seats, if we can not change to the required day, we will inform you as soon as possible, we will recommend another day, or send the refund to your paypal account as required.
Upgrade ticket class
If you like the above package service, and need to upgrade to higher class ticket, plase buy the above package frist.
Then you can pay the ticket price difference at: www.chinadiscover.net/faq/payment.htm
Ticket Price Difference per person (Currency: USD)
| | | | | | |
| --- | --- | --- | --- | --- | --- |
| Class | C | B2 | B1 | A2 | A1 |
| Area | Yellow | Green | Green | Gray | Gray |
| Price | - | 5 | 18 | 41 | 70 |
Behind the scene
The Impression Liu Sanjie has been a daily scenario Chinese film hero Zhang Yimou created in 2004 -- an outdoor performance placing its setting in real mountains and rivers in Yangshuo.
The show has become one of the highlights visiting Yangshuo. 3000 people attend the show at the same time. In fact, the night life of the old town has been changed a lot.
Zhang has been named by the US-based Entertainment Weekly as one of the 20 greatest contemporary directors in the world.
From his first film, "Red Sorghum," to his last one "Qian Li Zou Dan Ji", he was always notable in dowing away with the rules of his contemporaries by using Chinese stars, yet all "recognizable faces" he has employed have become international super stars, such as Gong Li and Zhang Ziyi. Ever since the birth of "Red Sorghum," his films have been said to have "rebellious spirit" and "exotic flavor" by Western critics, and have also beenidentified as a good Chinese brand to sell.
Since he broadened his palette to include martial arts movies compliments have abounded. In 2004, his martial arts films "House of Flying Daggers" and "Hero" were both included in the list of Top Ten Films of the year by the US-based Associated Press.
However, when he turned his attention to things outside of the film industry, such as the bidding project for the Beijing Olympic Games 2008 and the outdoor performance, accusations arose that Zhang had finished a magnificent presentation with his cinematic talent.
Story of Liu Sanjie
The performance is based on a Chinese musical movie made in 1961.
The story is about a lady called Liu SanJie who lived in the city of Liuzhou (2 hours from Guilin) where she worked in the fields. Liu Sanjie was well known in Liuzhou for her great singing voice. She would always sing while she worked in the fields. Most of her songs were about the repression felt by her and the farmers from the local landlords who over taxed them. She had to leave Liuzhou for her own safety and came to Yangshuo on a bamboo raft and settled here.
Yangshuo's farmers also had problems with their landlord and Liu Sanjie took up singing against them. The local landlord had her kidnapped, but she escaped after the local farmers staged an uprising against the landlord. The locals agreed with the landlord that they did not have to pay taxes if they could sing better than the landlord, something which they always did.
Then under the Big Banyan tree, Liu Sanjie tossed her love ball to her loved one, which he accepted and they lived happily ever after.
Photos of Impression Liu Sanjie